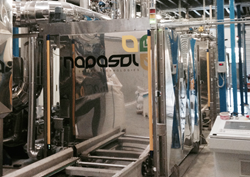 The interest in expanding pasteurization capacity is obvious considering the current food safety climate in the tree nut industry
Selma, CA (PRWEB) March 22, 2016
The Poindexter Nut Company invests in additional Napasol natural pasteurization capacity and wants to use the "Pasteurized" label for walnuts.
The Poindexter Nut Company of Selma, CA which was founded in 1969 continues to expand with investments in infrastructure, shelling, sorting, and packing equipment and now also in additional pasteurization capacity.
The strategic commitment to food safety and quality of the company started in 2011 with an investment in a first Napasol pasteurization unit. This equipment has been running 24/7, pasteurizing raw walnuts in all sizes from halves down to small pieces. With such a high utilization rate and customers clamoring for availability, Mike Poindexter, CEO of Poindexter Nuts, is looking forward to the commissioning in May 2016 of a new Napasol line which will multiply by 6 his current capacity. According to Mike Poindexter "the interest in expanding pasteurization capacity is obvious considering the current food safety climate in the tree nut industry" adding "it is widely anticipated that an ongoing FDA risk assessment on tree nuts will conclude that preventative measures will require pasteurization".
Pasteurization of almonds is already mandatory since 2007. FDA allows labelling almonds as being pasteurized if they have been treated with a validated kill step capable of a 100'000 fold (five log) reduction in Salmonella. Mike Poindexter also wants to use the "Pasteurized" label for walnuts. In February this year the existing Napasol unit was again validated to the FDA five log pathogen reduction standard. "We are currently talking with FDA and providing them with the scientific data allowing the products treated in our Napasol line to be labelled as pasteurized" says Mike, adding, "With this label we can communicate to our customers about the quality and safety of our nuts".
The multiplication of product recalls involving tree nuts are putting pressure on the industry. Major brands and retailers have to take into consideration that consumer confidence, inspired by the health and nutritional benefits of tree nuts, must not be compromised by a food safety risk. The growing interest in pasteurization, particularly using natural processes, is evidenced by the number of investments made in Napasol systems over the last 2 years.
The Poindexter Nut Company is located in Selma CA where it processes over 50 million pounds of walnuts yearly, exports to 45 countries, and has a staff of more than 400 employees seasonally. The increased pasteurization capacity coming online in May of this year and the "Pasteurized" label will give the company a lead in the walnut industry and a huge potential for growth.
Napasol AG is a Swiss company which offers a range of equipment for pasteurizing nuts, seeds, herbs, spices and other low moisture foods. With seven large units already operating or starting up in 2016 in California and Oregon, Napasol has established itself as the market leader in the pasteurization of nuts.