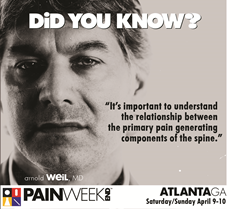 This meeting—and the multiple nationally known and respected presenters—is sure to give valuable insight
Montclair, NJ (PRWEB) March 22, 2016
Last year's PAINWeekEnd Atlanta was a huge success. Attendees said, "Presentations were great and relevant," "Great educational experience," and "Speakers were excellent!" Bill Keeton, MD, of Pain Consultants of Atlanta, says, "Many patients with chronic intractable pain desperately need opioid pain medications. However, due to misuse/abuse of these medications, legitimate pain patients are being stigmatized and find it difficult to obtain appropriate treatment." Dr. Keeton, CEO of Keeton Educational Services, will be the moderator of PWE Atlanta. "This meeting—and the multiple nationally known and respected presenters—is sure to give valuable insight into this rising healthcare crisis."
PAINWeekEnd Regional Conferences are now in their 6th year! PWE returns to Atlanta on April 9 and 10 and will once again provide busy clinicians and allied healthcare practitioners with relevant, practical instruction in the management of chronic pain. The conference, offering continuing medical/legal and clinical pain education, will take place at the Westin Peachtree Plaza, 210 Peachtree St NW.
Georgia requires 40 hours of CME every 2 years for relicensing. By attending PAINWeekEnd Atlanta, participants can receive 12.0 CE/CME credit hours as they enhance their skills in medication risk evaluation and mitigation, pain assessment and diagnosis, and delivery of individualized multimodal treatment. Course topics include chronic pain assessment; when acute pain becomes chronic; interventional management and differential diagnosis of low back pain; decreasing and managing medication aberrant behavior; opioid induced hyperalgesia; clinical laboratory fee schedule and medical record documentation; critical pain management practice issues; and chronic pain coping skills. In addition, there will be commercially supported activities addressing a range of product, disease state, and medical information topics.
To see the complete agenda and more information about this or other PAINWeekEnd Regional Conference, go to painweekend.org.
The online registration fee for this PAINWeekEnd Conference is $199. PAINWeekEnd registrants are further offered the opportunity to register for the 2016 PAINWeek National Conference, September 6-10, in Las Vegas, for $199 off the current online published price.
PAINWeekEnd is provided by Global Education Group.