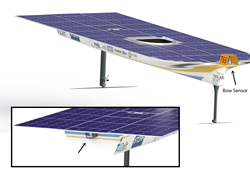 ToughSonic sensors are working like a charm.
Hinesburg, Vermont (PRWEB) March 21, 2016
Senix Corporation is once again a proud sponsor of the Solar Boat team at Technical University Delft in the Netherlands. Senix ultrasonic sensors play a key role in controlling the hydrofoiling process which, in turn, provides much of the boat's efficiency. The engineering students at TU Delft unveiled their new boat design at the Amsterdam Boat show this week.
Getting the boat hydrofoiling quickly and safely is critical to racing performance. One mistake and the boat will crash! Once the boat is hydrofoiling, the bow and stern-mounted ultrasonic sensors will help the control system maintain an optimum ride height during the race. The goal is to keep the drag-inducing hull out of the water without allowing the hydrofoiling control surfaces or the propeller out of the water. According to team Design Engineer, Bart Vonk, "The control system is key and it is only as strong as its weakest link. Good sensors are important."
The new design builds on the previous double-T hydrofoil configuration, but with some important control differences. ToughSonic REMOTE 14 ultrasonic sensors on the bow and stern are integrated into a more sophisticated control system that manages altitude and pitch. Senix's new REMOTE sensors were designed for use in remote liquid level measurement applications like irrigation automation and flood monitoring systems, but their energy efficiency, waterproof stainless steel housing and fast measurement cycle made them a good choice for solar boat racing as well. The ToughSonic Remote 14's will measure hull height 100 times per second and transmit data to the Inertial Measurement Unit in ASCII streaming mode for maximum processing speed. According to Bart Vonk, "The ToughSonic sensors are working like a charm."
About The TU Delft Solar Boat Team
The TU Delft Solar Boat Team consists of 20 to 25 students from Delft University of Technology. The team designs and builds a new solar-powered hydrofoil boat every two years and races in the biennial Dutch Solar Challenge, the World Cup in solar boat racing. The previous Solar Boat team finished an impressive third at the Solar1 Cup in Monaco in July, 2015. The new boat will begin sea trials in April in preparation for the Dutch Solar Challenge world championship this summer.
About Senix Corporation
Senix designs and manufactures advanced ultrasonic sensors for liquid level measurement, distance measurement and object detection. Senix ToughSonic® sensors are used in a wide range of automation and research applications worldwide.
The TU Delft Solar Racing Team are the latest among several boat designers and marine engineers to use ToughSonic sensors for marine applications. Several America's Cup sailing teams, including defending champions Oracle Team USA, use Senix ultrasonic sensors for hydroplaning control. ToughSonic sensors are used to measure motion and freeboard height on ocean cargo ships and barges. Senix ultrasonic sensors can be found where ever fast, accurate and reliable level and distance measurements are required.
Senix Corporation is a privately held company located in Hinesburg, VT, USA.