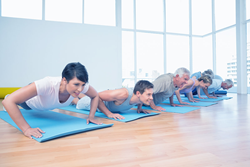 "it's important for employees to be physically active in a fitness program. It helps with their productivity at work and also results in less sick days, lowering health insurance costs."
Houston, TX. (PRWEB) March 22, 2016
Earlier this month, Dynamic Fitness launched corporate fitness memberships for local businesses in the Houston, Texas area. The fitness chain also implemented a Corporate Fitness Month, offering innovative, weekly blog posts on the topic and a special, limited-time-only deal on their new corporate program in the month of March.
This is a brand new program offered by Dynamic Fitness and the goal is to partner with the community to advocate for wellness in the workplace. The fitness center is reaching out to any kind of business that embraces a wellness program, ranging from small neighborhood stores to large firms with over two hundred employees. Dynamic Fitness knows the benefits of its corporate memberships and wants to invite other businesses to engage in this valuable program.
"We're going to help out companies and HR departments by offering corporate memberships at a discounted rate," said Jared Williams, the CEO of Dynamic Fitness. This discount gives neighborhood businesses a higher incentive to sign up, while the program itself will keep employees coming back to the gym.
In addition, this membership also includes four free personal training sessions, part of the fitness center's Dynamic Results program. Dynamic Fitness is offering these sessions to help employees of local businesses in the first 4 to 5 weeks of their fitness routine. This will guide them to get on the right track to continue visiting the facility and use the full extent of their corporate memberships. This kind of membership will guide employees to finally make the fitness decision they've been thinking about.
Williams went on to emphasize, "We understand that getting started is the hardest part of fitness. For companies, it's important for employees to be physically active in a fitness program. It helps with their productivity at work and also results in less sick days, lowering health insurance costs." With this program, Dynamic Fitness has opened the door to partner with nearby businesses and build professional relationships with them.
Dynamic Fitness plans to expand the program to include corporate competitions and other corporate team building events later this year.
About Dynamic Fitness:
Dynamic Fitness aims to be the leading fitness provider in the communities it serves. Their amenities, spread out through 30,000 sq. feet facilities, include tanning, free weight areas, swimming pools, group training programs, and more, in addition to convenient open hours. To learn more about Dynamic Fitness and to view offerings by location, please visit http://www.thedynamicfitness.com