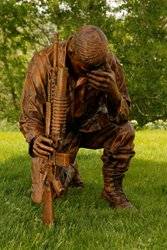 It artistically gives it that feel of respect, reverence, solitude, and remembrance.
Provo, Utah (PRWEB) March 24, 2016
Big Statues, a custom bronze statue and monument company, has been selected to create a veteran's memorial monument, honoring the veterans from the statue of Utah who have fought in the past, or those who are currently fighting for the freedom of American citizens. This particular monument, which is in the process of being created, will be displayed in Gunnison, Utah, and will stand as a staple in this particular small Utah town. It is a great location for the statue, because many individuals will be passing by the statue on a daily basis, paying their individual tributes of thanks to these individuals who have so valiantly risked their lives for our freedom.
"it is a great project, and I am always honored when I am asked to work on similar projects." Matt Glenn, president of Big Statues states, after reflecting on the many memorials for soldiers that he has had the privilege to be a part of. Big Statues has been working closely with Jed Bartholomew, head of the Veteran Memorial project, to make sure every detail is exactly what they were wanting and expecting. "I thought this statue fit well with the rest of the memorial. It artistically gives it that feel of respect, reverence, solitude, and remembrance. It felt like it would be a fitting piece, that would reflect the prayerful reflection of such a place."
Matt Glenn has felt very honored working on this particular piece. "I feel so much respect toward the armed forces of our wonderful country, especially those that are close to me. Those that give everything for the peace of our country. It leaves me speechless." This has been a great project to be a part of. Matt Glenn has been putting his heart and soul into the creation of a wonderful statue , to be placed in such a wonderful memorial location along with other wonderful parts of the monument.