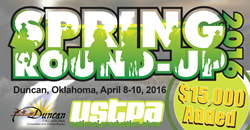 Duncan, OK (PRWEB) April 05, 2016
Calling cowboys and cowgirls of all ages to make plans. April 8-10, 2016 will see Duncan, OK abuzzing with the United States Team Penning Association's Spring Round-Up in town.
Team penning and ranch sorting are sporting events that involve the movement of cattle on horseback by rider teams. Created to preserve that traditional skill sets of working cow horses and handlers, Penning and Sorting challenge modern riders and mounts to compete in a timed event to identify, move and pen specific cattle from a herd in a limited amount of time. Penning and Sorting are timed events that involve speed, precision and strategic planning in order to quickly and accurately cut and pen the cattle. Sound easy, doesn't it? It's not.
In Penning, teams of three horse and rider combinations use their combined athleticism, horsemanship and general "cowiness" to humanely separate particular cows and herd them into the penning area in under 60 seconds. Time is of the essence in Penning and Sorting, making this challenging sport even more exciting as the clock ticks. In seconds, the most skilled horses and riders can find their specified cow, separate it from the herd and move it to the penning area without ever touching the animal. Penning and Sorting offer participants the opportunity to incorporate all of their working cow horse skills in a fast-paced, fun, team-oriented competition while embracing the roots of the western lifestyle. Fun to do, even more fun to watch.
Ranch sorting requires that two riders move a herd of ten cattle in numerical order from one round pen into a separate adjoining pen in sixty seconds or less. There is a twelve foot opening between the two pens, and also two un-numbered 'trash' cows that are mingled throughout the herd. In both penning and sorting, the numbers do matter - so any cow that crosses the line, either out of order or carrying the wrong number, will result in a 'no time' for the team. To top it off, the cattle have minds of their own about where they want to be.
Audiences will find one of the most appealing aspects of Team Penning and Ranch Sorting is the diversity of horse breeds in the sports. While some may consider these riding discipline best suited for stock-type horses, USTPA competitions are open to every breed of horse, registered or not. USTPA does maintain working relationships with specific breed associations, including the AQHA, to promote the use of uniform rules for all Team Penning and Ranch Sorting competitions.
The USTPA is the National Governing Body for the sports of Team Penning and Ranch Sorting. As the only international non-profit Association in the sports, the USTPA was formed in 1993 and now proudly represents Team Penners and Ranch Sorters from around the world. As a membership-based organization, the USTPA represents riders off all ages and riding abilities.
Each year, the USTPA hosts a variety of competitions that attract riders from around the globe, in addition to assisting private show owners in producing USTPA events. The USTPA also functions as an advocate to the working cow horse, promoting its use in these sports and educating the public about the fun, family competitions that the USTPA sanctions throughout the United States each weekend. Through member services, competition regulation, championship production and general promotion of the sports of Team Penning and Ranch Sorting, the USTPA is committed to promoting the western lifestyle.
And they will be in Duncan, OK to do what they do best....cowboy up!