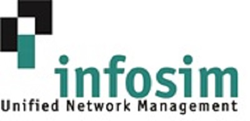 "With Infosim® StableNet®, we are able to deliver a comprehensive management solution for service providers and enterprises, " said Mukund Srigopal, Product Marketing Manager, Brocade
Wuerzburg/Austin/Singapore (PRWEB) March 22, 2016
Brocade Visibility Manager is a single-pane-of-glass management application for Brocade Network Visibility products, and it is now fully integrated with Infosim® StableNet®, a unified, 3rd generation OSS system with three incorporated functionalities that focus on Configuration, Fault, and Performance Management. "We are very pleased that Brocade has extended its product portfolio with the advantages of StableNet®. The first steps in our cooperation clearly indicate that this is a win-win situation, and we are looking forward to a long-term relationship," said Stefan Koehler, CEO, Infosim®.
"Brocade Visibility Manager simplifies the management of Brocade physical and virtual network visibility infrastructure with a centralized, graphical user interface for provisioning, configuration, maintenance, and monitoring," said Mukund Srigopal, Product Marketing Manager, Brocade. "With Infosim® StableNet®, we are able to deliver a comprehensive management solution for service providers and enterprises. We are pleased that StableNet® is helping Brocade offer a complete new IP network visibility solution to our customers."
About Infosim®:
Infosim® is a leading manufacturer of automated Service Fulfillment and Service Assurance solutions for Telcos, ISPs, Managed Service Providers, and Corporations. Since 2003, Infosim® has been developing and providing StableNet® to Telco and Enterprise customers. Infosim® is privately held with offices in Germany (Wuerzburg - Headquarters), USA (Austin), and Singapore. Infosim® takes pride in the engineering excellence of its high quality and high performance products. All products are available for a trial period and professional services for proof of concept (POC) can be provided on request.
About StableNet®:
Infosim® develops and markets StableNet®, the leading unified software solution for Fault, Performance, and Configuration Management. StableNet® is available in two versions: Telco (for Telecom Operators and ISPs) and Enterprise (for IT and Managed Service Providers). StableNet® is a single platform unified solution designed to address today's many operational and technical challenges of managing distributed and mission-critical IT infrastructures.