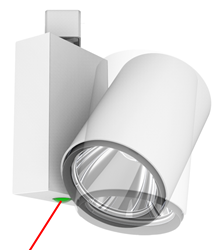 This is going to change the lighting industry
Somerville, MA (PRWEB) March 21, 2016
Loto Lighting today released its next exciting motorized track fixture for the display industry. The Zero was designed with 3400 lumens of 90+ CRI light in a 40 watt package focused to a 12 degree beam. Then Loto added its patented LaserDIM technology, allowing for individual dimming of fixtures with a simple remote control.
With LaserDIM, a laser identifies each lamp, then radio adjusts the dim level. A zone can be created by selecting more than one lamp at at time. No other setup or equipment is required.
"Designers were very interested in our motorized fixtures and simple controller," said Barry Johnston, VP of sales, "but when they heard about LaserDIM, we really got their attention: 'You can do that? It will be huge.'"
Custom dimming control has long been sought by display designers. Currently, it is done with multi circuit tracks, creating zones that are adjusted by wall dimmers. Recent attempts using WiFi in each lamp have not gained much traction because of the complexity.
"Imagine a tall display," said founder Tom Devlin. "The light hitting the top looks much brighter than the light hitting the bottom. With LaserDIM, you can adjust the hot spots for even illumination."
With one simple hand-held transmitter, the designer can change a scene on command, walking through a space adjusting beam levels and locations, rather than compromising on a zone setting. This one-on-one personal interaction with each lamp will be far superior than a centralized control scheme requiring a screen.
Full control, zero hassle. The Zero is compatible with most popular track systems including high quality Global track.
"Stay tuned," said Tom Devlin, "there are many more fixtures to come."
About Loto Lighting
Loto Lighting sells motorized light fixtures for convenience and safety in a dynamic display environment where frequent scene changes are needed. These superior luminaries provide excellent quality of light along with increased adjustability, including individual dimming, at a price similar to competitive static fixtures. With a simple selection and control scheme that has no additional installation requirements, the company is opening the door to a new class of lighting for the retail, gallery, and hospitality industries. For more information, please visit http://www.lotolighting.com
Note to editors: Loto Lighting, Zero, and LaserDIM are trademarks of Loto Lighting LLC.
Contact:
Tom Devlin
Loto Lighting LLC
1 Fitchburg St. #C305
Somerville, MA 02143
Tel. 800-906-5088
Fax. 617-776-3115
tedevlin(at)lotolighting(dot)com