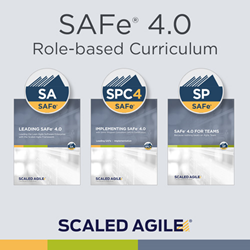 We are committed to providing enterprises with world-class training and certification materials that will result in high-quality SAFe transformations.
Boulder, Colorado (PRWEB) March 18, 2016
Scaled Agile, Inc. (SAI), provider of the Scaled Agile Framework® (SAFe®), today announced a series of important additions to its role-based SAFe training and certification products. Fully updated to reflect the modular and scalable features of SAFe 4.0, the new courses are designed to help enterprises better organize around value delivery, develop systems that include hardware and software, and improve development, coordination, and delivery of large systems.
"As the number of enterprises adopting SAFe 4.0 continues to grow, so does the need for professional training and certification," said Dean Leffingwell, creator of SAFe, and Co-Founder of Scaled Agile. "Our expanding role-based curriculum delivers the knowledge each individual needs, based on their specific role within the enterprise. The result is greater alignment, visibility, improved performance throughout the enterprise, and ultimately better outcomes for the business."
"The Scaled Agile team put a tremendous amount of work into advancing our training content and improving the learning architecture in our SAFe 4.0 courseware," said Chris James, COO and President of Scaled Agile. "We're passionate about SAFe, and committed to providing enterprises with world-class training and certification materials that will result in high-quality SAFe transformations."
Scaled Agile's role-based curriculum supports a SAFe learning journey that covers dozens of distinct roles, including the most commonly recognized functions in most large organizations. The SAFe 4.0 courseware suite currently includes:
Leading SAFe 4.0, with SAFe Agilist (SA) Certification
Scaled Agile's flagship two-day course teaches enterprise leadership Lean-agile principles, how to execute and release value through Agile Release Trains (ARTs), how to build an Agile Portfolio, and how to lead a Lean-Agile transformation at enterprise scale. It is designed for executives, managers, consultants, and Agile change agents responsible for leading or supporting a Lean-Agile change initiative in a large software or systems-dependent enterprise.
Implementing SAFe 4.0, with SAFe Program Consultant (SPC4) Certification
Building on Leading SAFe as the first two-days, this four-day course prepares the Lean-Agile change agent to lead an enterprise Agile transformation by leveraging SAFe. It explains how to effectively apply the principles and practices of SAFe, including training with SAFe courseware, coaching teams, launching ARTs, and building and managing an Agile portfolio. The course is intended for those who will be directly involved in a SAFe adoption. This includes practitioners, change agents, and consultants responsible for implementing Agile programs and portfolios as part of an enterprise Lean-Agile change initiative.
SAFe 4.0 for Teams, with SAFe Practitioner (SP) Certification
This two-day course teaches teams how to work in an Agile environment using Scrum, Kanban, and XP. Using real-world activities, the teams learn how to become Agile Teams, build their backlog, and plan and execute iterations. Agile teams learn about their ART and their role in it, planning, executing, and improving with other teams. This class prepares teams to execute the iterations in a Program Increment (PI), including all meetings at the Team and Program level.
Enterprise Training Enabled by Scaled Agile Global Partner Network
Organizations seeking the benefits of Scaled Agile's role-based curriculum can contact a Scaled Agile Partner—at scaledagile.com/partners—to discuss their training requirements, or visit scaledagile.com for the Partner course calendar, as well as an up-to-date listing of SAFe 4.0 role-based courses.
About Scaled Agile, Inc. (SAI):
Based in Boulder, Colorado, Scaled Agile's mission is to help large enterprises achieve better outcomes, increase employee engagement, and improve business economics through adoption of Lean-Agile principles and practices based on the Scaled Agile Framework® (SAFe®). SAI supports tens of thousands of practitioners of the Framework through training, certification, consulting services, and a global partner network that reaches over 35 countries and 350 cities. As a contributing member of the Pledge 1% corporate philanthropy movement, SAI also seeks to inspire, facilitate, and encourage other companies to make a positive impact in their community.
Learn about Scaled Agile, and SAFe 4.0, at scaledagile.com and scaledagileframework.com.
To view SAFe case studies, visit http://scaledagileframework.com/case-studies/
Media Contact:
Regina Cleveland, Director of Communications
+1.720.477.1756
Regina.Cleveland(at)scaledagile(dot)com