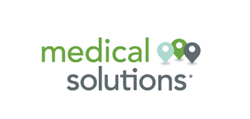 Project 24 aligns perfectly with our values and philosophy of working hard to make the world a happier, healthier, better place. We are absolutely honored to be a part of this important operation.
Omaha, Neb. (PRWEB) March 21, 2016
Medical Solutions, one of the nation's largest Travel Nurse staffing companies, is proud to sponsor Planet Water Foundation's Project 24 on World Water Day, Tuesday, March 22, 2016.
Established in 1993, World Water Day is an opportunity to celebrate water and make a positive impact in the lives of global community members who suffer from a lack of clean, safe water and other water-related issues.
In response to staggering statistics like the fact that one in eight people worldwide do not have access to safe, clean drinking water, the mission of Project 24 is "to move the hands of time forward in 24 impoverished communities by installing and commissioning 24 clean water filtration systems in just 24 hours."
"Particularly as a nurse, I think Project 24 is an amazing, life-saving mission," says Amber Barna, BSN, RN and Clinical Director of Nursing at Medical Solutions. "Statistics show that half of all the world's hospital beds are occupied with people suffering from waterborne diseases that, with the availability of clean water within their communities, should be otherwise easily preventable."
At 12 a.m. (EDT) on Tuesday, March 22, the Medical Solutions-sponsored clean water filtration system will go up at the Paciano Rizal Elementary School in the Philippines, which is located near a polluted river that causes poor water quality. The Medical Solutions water tower will provide access to clean water for bathing, cooking, drinking, and cleaning to 508 students and 1,100 households in the village of 5,540 people.
Medical Solutions previously sponsored the implementation of clean water filtration systems in 2012 and 2015 in Cambodia.
"The Medical Solutions team is incredibly proud to support Planet Water's efforts to bring clean, safe water to Paciano Rizal," says Craig Meier, CEO at Medical Solutions. "Project 24 aligns perfectly with our values and philosophy of working hard to make the world a happier, healthier, better place. We are absolutely honored to be a part of this important operation."
Click here to learn more about Project 24, Paciano Rizal, and Planet Water.
ABOUT PLANET WATER: Planet Water is a U.S.-based, non-profit international development organization focused on bringing clean water to the world's most disadvantaged communities through the installation of community-based water filtration systems and education programs on water-health & hygiene. Our projects are focused on schools, children, and rural communities who lack access to clean, safe water. Learn more at Planet-Water.org.
ABOUT MEDICAL SOLUTIONS: Medical Solutions L.L.C. is a healthcare staffing firm that specializes in placing registered nurses in temporary travel assignments throughout the nation. The company is the third-largest core Travel Nurse staffing agency in the United States, with locations in Omaha, San Diego, Cincinnati, and Tupelo, MS. Medical Solutions was one of the first Travel Nursing and Allied Healthcare staffing companies to be certified by the Joint Commission and has been continuously certified since January 2005. Medical Solutions was named one of Modern Healthcare's 2015 "Best Places to Work in Healthcare," named among Staffing Industry Analysts' 2016 "Best Staffing Firms to Work For," has been named eight times to the Inc. 5000 list of fastest-growing private companies, and its flagship Omaha office won the 2014 Better Business Bureau Integrity Award. A nationwide network of qualified healthcare providers allows Medical Solutions to help its client hospitals continue to provide excellent patient care amidst a nursing shortage. Medical Solutions has contracts with 1,500+ client hospitals nationwide and is one of the fastest-growing companies in the Travel Nursing industry. Visit MedicalSolutions.com to learn more.