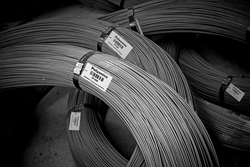 The new Polyonics XF-608 is a high temperature barcode tag material with ultra-high tear resistance, minimal curl and double-sided thermal transfer printability.
Westmoreland, NH (PRWEB) March 23, 2016
For metal processors looking for a low cost, high temperature barcode tracking tags with increased durability the Polyonics XF-608 is the answer.
The XF-608 is a low cost paper laminate tag material that can be thermal transfer printed on both sides and operates effectively at 200°C with short exposures up to 300°C. The ultra-durable material produces minimal curl post heat cycle and provides nearly three times the tear resistance of the leading tag materials on the market.
Polyonics XF-608 is a 9 mil (227 µm) tag material designed to be hole-punched for easy attachment to product bundles via metal wires or straps. The print surfaces produce high contrast and highly readable barcodes using a wide variety of thermal transfer ribbons available from all the major ribbon producers.
The XF-608 is available in 20" x 1000' (500 mm x 300 M) master rolls as well as 4", 6", 8", 10" and 12" x 1000' (100mm, 152 mm, 203 mm, 254 mm and 305 mm x 300 M) slit widths with lead times of two weeks.
For more information please contact Dave Genest at dave.genest(at)polyonics(dot)com or 603.352.1415.
Polyonics at a Glance
Polyonics manufactures high performance materials for high temperatures and harsh environments. These include thermal transfer printable label and tag materials, single and double coated tapes, laser markable label materials and printable flexible substrates. The ultra-thin materials include flame retardant, ESD-Safe™ and high opacity options and are used by converters and OEMs worldwide for electronics, automotive, metal processing, aerospace and medical device applications.