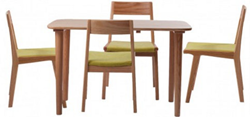 We are creating the description(s) so that it is as detailed as possible for customers
(PRWEB) March 22, 2016
Spring has sprung for the EZ staff. Brand new revisions are happening on the EZmod Furniture website. Specifically, the item descriptions are being reviewed, revamped and are more detailed than ever. Not to mention all of the new images. Plus, new Deals of the Week have sprung for this week only including the Kiss Chair, Eiffel Chrome Chair 2 pack and the Bijou Dining Table Set.
Spring cleaning has never looked so good! The EZmod staff has been vigorously working night and day updating descriptions for many items on the website. They will be getting a facelift very soon, according to Gloria Ortega, Operations Manager. "We have been letting our creative juices flow. We are creating the description so that it is as detailed as possible for customers," she explained. There has also been many photoshoots going on in the EZmod showroom as well. Many new additional photos of each EZ item is being uploaded to the site as well. Now, even more pictures of the details such as the feet, ridges, seats, non-marking bottoms, etc. These new pictures will be uploaded very soon.
Pucker up with this modern classic. Made up of very soft red fabric, the Kiss Chair is just as unique as it is comfy. With its soft curves and fun shape, its seat and back are a pair of lips ready for a big kiss. Kiss chair also features an inner wooden frame to hold up its shape for years to come. No need for arm rests or feet on this statement piece, it sits right on the ground. And a good thing, since Kiss chair is also known for relaxing and stretching without feeling cramped.
Known for versatility, the Eiffel Chrome Arm Chairs are an instant classic. Made up of thick plastic, the molded seat is durable, easy to clean and made to last. The matte finish of the seat also makes this chair scratch resistant. And with the shiny chrome steel base, it surely will last for years to come. Four black feet are included to protect hardwood flooring. This mid century modern inspired classic is so versatile, it can be used for offices, dining chairs and accent chairs in your home or office.
Last but not least, the Bijou Dining Set is hard not to love. With the simple, straight lines of this dining set leaves a modern essence with a classic twist. The thick, green cushions of the chairs are made for long lasting comfort and are also very sturdy made up of wood.
EZmod Furniture is a modern furniture company in Baldwin Park, California. For inquiries about these pieces or questions of any kind, do not hesitate to contact Angelique Valdez, Sales Support and Marketing Coordinator at 866-630-6161 ext. 113.