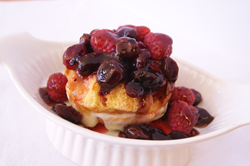 Breakfast is often the favorite 'B' in B&B for many travelers, says Lisa Westlake Chen, general manager of BedandBreakfast.com.
Austin, Texas (PRWEB) March 21, 2016
Breakfast Lovers and B&B Fans Invited to Vote for Favorite Breakfasts in Fifth Annual Best B&B Breakfast Tournament
Today kicks off BedandBreakfast.com's fifth annual Best B&B Breakfast Tournament. Breakfast lovers and B&B fans will vote for their favorite B&B breakfast in North America, choosing from a pool of 16 finalists. Voting will be tough, as sweet competes with savory, quiches face off against soufflés, and pancakes take on French toast.
"Breakfast is often the favorite 'B' in B&Bs for many travelers," says Lisa Westlake Chen, general manager of BedandBreakfast.com, the world's most comprehensive site for finding and booking bed and breakfast properties. "This annual contest is fun because our B&B fans along with breakfast fanatics vote for their favorites, which they can enjoy at home since we provide recipes for all 16 finalists."
BedandBreakfast.com's Best B&B Breakfast Tournament is a bracket much like the NCAA Basketball's March Madness, with BedandBreakfast.com's Facebook fans voting on their favorites. The recipes in each bracket winning the most votes move on to the next round of eight, four, and the final two, which will battle it out in a showdown on April 4. The winner will be announced April 7.
The Sweet 16 were chosen based on recipe creativity, uniqueness and appeal by guest judges including Anne Banas, deputy travel editor for BBC.com; Genevieve Shaw Brown, travel editor for ABC News; Adrien Glover, vice president of content and marketing at ItaliaRail; and Sarah Martens, associate digital food editor, BHG.com.
Here are the Sweet 16 finalists:

Lobster Gnocchi by Topside Inn, Boothbay Harbor, Maine
Italian Eggs Benedict by The Guest House B&B, Seattle, Wash.
Banana Foster's Style Banana-Pecan Stuffed French Toast by Weller Haus Bed & Breakfast, Newport, Ky.
Country Brunch by Flowers & Thyme Bed and Breakfast, Lancaster, Penn.
Carrot Pancakes with Maple Bacon Cream Cheese Sauce and Chinese Five Spice Candied Pecans by Chestnut Street Inn, Sheffield, Ill.
Double Chocolate Pancakes by 1837 Cobblestone Cottage, Canandaigua, NY
New England Johnny Cod Cakes by Inn at Pleasant Lake, New London, NH
Sweet Georgia Peach, Blueberry and Moonshine Flambé Over a Short Stack of Johnny Cakes by Open Gates Bed & Breakfast, Darien, Ga.
Maine Lobster Benedict with Lemon-Herb Butter by The Chadwick Bed & Breakfast, Portland, Maine
Savory Feather Bed Eggs by Blessings on State Bed & Breakfast, Jacksonville, Ill.
Eggs a la Chesapeake by The Inn at Tabbs Creek, Port Haywood, Va.
Citrus-Berry Breakfast Pizza by Cedar Crest Lodge, Pleasanton, Kan.
Sausage Waffles with Blueberry Sauce by Farmers Guest House, Galena, Ill.
Apple Sausage Cheddar Quiche by The Oaks Victorian Inn, Christiansburg, Va.
Hatch Chili Cornbread Waffles with Peach Compote and Toasted Pecans by Adams House, Austin, Texas
Jalapeño Cheddar Egg Soufflé by Capitol Hill Mansion Bed & Breakfast Inn, Denver, Colo.
Last year, BedandBreakfast.com hosted a regional recipe competition, with its Facebook fans awarding the best B&B breakfast to the Midwest region's Farmers Guest House in Galena, Illinois, for its Apple Cheese Stuffed French Toast with Midwest Berry Sauce. The East came in a close second, with the Baked Apple Crisp from the 1837 Cobblestone Cottage B&B in Canandaigua, New York.
Go to BedandBreakfast.com's Facebook page from March 21 to April 4 to vote for the best B&B breakfasts. Find BedandBreakfast.com also on Twitter (@bnblovers).