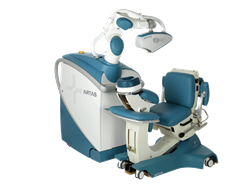 The increased speed, combined with the precision and skill of the Robotic Hair Transplant System, will allow us to serve more clients at a faster rate while still maintaining patient satisfaction with the final results. - Parsa Mohebi, MD
Los Angeles, CA (PRWEB) March 18, 2016
Dr. Parsa Mohebi has recently been working in tandem with the creators of the ARTAS Robotic Hair Transplant System on research into ways to eliminate two-step graft extraction procedures. Dr. Mohebi has been serving as the principal investigator of the one-step follicular unit extraction (FUE) technique which could revolutionize the way robotic hair restoration procedures are performed.
According to Dr. Mohebi, "the blunt extraction performed by the Robot system makes the overall FUE procedure time much longer in comparison to one step technique. In fact, the new FUE extraction technique can be performed at triple the speed of current robotic FUE graft extraction rate. The increased speed, combined with the precision and skill of the Robotic Hair Transplant System, will allow us to serve more clients at a faster rate while still maintaining patient satisfaction with the final results." Dr. Mohebi went on to state that the new FUE extraction technique will make the use of 4000 Robotic FUE grafts in one session possible for ideal candidates.
ARTAS is one of the most advanced techniques currently in use in the field of hair restoration as it utilizes an image-guided robotic arm, as well as special imaging software, to harvest follicular grafts on a precise individual basis. The use of several cameras during an ARTAS procedure allows the surgeon to view microscopic video images of the patient's follicular units. The images identify the donor hairs on the back and sides of the scalp thanks to a 3D microscopic camera used by the ARTAS System.
The combination of ARTAS and the FUE extraction technique researched by Dr. Mohebi's team has the potential to create a more effective transplant method for patients. Dr. Mohebi said, "I often elect to utilize a combination of methods in the patient procedures performed at my practice. The variety of methods serves a number of purposes including increased graft viability, a higher number of grafts harvested in one session and an overall higher efficiency of hair transplant procedures."
Dr. Mohebi and his research team hope that the combination of existing ARTAS system technology and the increased speed and efficiency of the new FUE extraction method will provide future patients the chance to enjoy the results from what promises to be one of the most precise hair restoration methods available to patients of all ages.
About Dr. Parsa Mohebi:
As the first chairman of the FUE Research Committee of the International Society of Hair Restoration and creator of several methods and techniques in modern hair restoration, Dr. Mohebi, along with his incredible staff, provides the most advanced techniques in the industry. Dr. Mohebi prides himself in advancing new research and developing the latest technology to improve the quality of hair restoration. The overall goal at his office is to restore patient's self-esteem through the use of quality hair restoration techniques.