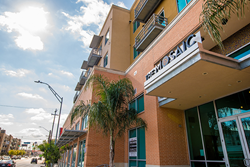 Experience the ART of Living
San Antonio, TX (PRWEB) March 21, 2016
The Mosaic has transformed the lower Broadway area by adding to its residential properties. Perfectly equipped, The Mosaic is a multi-use residential property with 120 residential units and 4 commercial spaces, adding a modern architectural enhancement to the Broadway Corridor.
George Mauze, Broadway Developments' President, says he's very excited about the enhancements they brought to Broadway and its already rich culture. "A revitalization vision for the Broadway Corridor that benefits our community, enhances quality of life, and is cost effective to implement requires a public and private partnership that avoids a piece-meal approach. A comprehensive neighborhood standard and implementation strategy is required; we will work to be a part of that effort."
With the beautifully enhanced seven floor plans that are offered, residents are more than pleased to call The Mosaic their home. Amenities include; a fitness center, a heated spa & outdoor pool, plus onsite garage parking. Each unit possesses modern lighting fixtures, outdoor living space, and energy efficient appliances to name a few. It's fully equipped, giving a new and trendy look to Lower Broadway. George said "It's an exciting time for Broadway Developments, the Broadway Corridor, and all of San Antonio."
Conveniently situated between Josephine and Grayson streets on Broadway, the property also consists of two restaurants, an Aveda salon, and a high energy cycling studio. It also boasts convenient access to downtown, The San Antonio Museum of Art, the Pearl Brewery, and the River Walk.
Lower Broadway, also known as LoBro, was known as a hotspot for car dealerships and other tourist activities, but after utilizing the vacant space for residential use, LoBro has definitely enhanced its overall image with new residential and commercial spaces entering the area. The Mosaic has made it easier for people to find a place to live closer to downtown, which seemed impossible for many before.
About
Located within the historic Broadway Corridor in San Antonio, The Mosaic offers the best of trendy urban living. Influenced by culture from around the world, their interiors are both modern & industrial, and highly detailed. Delivering easy access to the hottest local attractions; such as Museums, restaurants, shopping and more, the residents of The Mosaic enjoy the most out of the prospering community to make for a new life adventure.