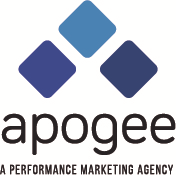 I'm shedding the personal branding to reflect the complexity of the agency as it exists today.
Roswell, GA (PRWEB) March 22, 2016
Greg Hoffman Consulting, winners of two Affiliate Summit Pinnacle Awards in the last three years, has rebranded to Apogee, a performance marketing agency. The core team has grown and services have expanded since founder Greg Hoffman started the consultancy in 2009.
"I'm shedding the personal branding to reflect the complexity of the agency as it exists today," said Greg Hoffman. "The brand is bigger than me and the team deserves the recognition as a leader in the outsourced affiliate program management realm."
The new mission statement reflects the definition of the agency name change. Apogee reaches for the highest point of integrity in performance marketing by advocating for merchants and affiliates and teaching each to value the other.
Affiliates will not see any changes besides the new website, http://www.apogeeagency.com and new email addresses. The Apogee team will still manage together and give the clients the highest level of customer service. We will maintain our boutique agency status but we have a strategic growth plan for 2016 as well as expanding our services to existing clients. Our primary merchant strategy is to show growth and maintain a competitive edge, while our affiliate strategy is to build lasting relationships. As affiliate managers, we are the bridge between affiliates and merchants and our job is to make both sides profitable.
New merchants will have a broader selection of affiliate program management packages to choose from, along with referrals to other trusted digital agencies for social media, SEO, SEM and Public Relations. Our premium affiliate program management level gives merchants everything they need for strong, responsible growth expectations. With an aggressive recruiting strategy from multiple tools and services, we will work with the best of the best for these clients. We will also utilize our vendors for coupon, datafeed and paid search compliance and optimization.
Another level of service is the Tune-up, a one-time strategy which begins with a free audit and ends with full implementation of all recommended changes and fixes to the program. For those merchants that need ongoing help with a program but do not need the Premium service, we offer the Tune-Up Plus Maintenance. This allows our team to perform basic services and keeps the program on a steady course moving forward.
All applications in the affiliate programs managed by Apogee are reviewed manually, so please apply and add any additional promotional methods that will assist in the approval process.