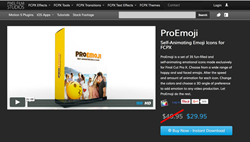 This is a new fun tool for FCPX Editors.
Aliso Viejo, CA (PRWEB) March 19, 2016
ProEmoji is a set of 35 fun-filled and self-animating emotional icons made exclusively for Final Cut Pro X. Editors can choose from a wide range of happy and sad faced emojis. Alter the speed and amount of animation for each icon. Change the colors and choose a 3D angle of preference to add emotion to any video production. Let ProEmoji do the rest.
ProEmoji includes 35 different self-animating presets to select from, allowing the user to compliment the topics or characters in videos. Give more expression in narrated videos or stick an emoji over a friend's face to add some humor. There's endless amounts of fun while using ProEmoji.
ProEmoji includes customization controls which allow the user to modify the emoji to the desired look. On top of the basic color, scale, and rotation, users have control over animation speeds and amount, giving users master control over emotions. These emojis can be scaled to any size. The possibilities are endless.
ProEmoji features intuitive controls that allow users to adjust the style and orientation of each emoji preset. Editors can determine the scale, position, and rotation of emojis with on-screen controls. ProEmoji users can manipulate colors and 3D options with simple color swabs, sliders, and checkboxes.
ProEmoji features 3D options with intuitive controls that allow users to adjust the angle of each emoji icon. Editors can determine what angle the 3D emoji faces or can simply turn the 3D option off for a more basic cartoon style. The options are endless with ProEmoji icons.
Established in 2006, Aliso Viejo, California-based Pixel Film Studios is an innovative developer of visual effects tools for the post-production and broadcast community. Their products are integrated with popular non-linear editing and compositing products from Apple FCPX. Apple, the Apple logo, Mac OS X, and Macintosh are registered trademarks of Apple Inc. in the U.S. and/or other countries. All other trademarks and trade names are the property of their respective owners.