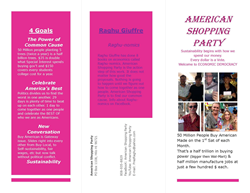 Our Economy is almost $20 trillion a year. If just 30% of this was American Made, we could have 100% employment. That is why 1 day a month is almost enough to make all the difference. That's 2 weeks a year.
Hilo HI (PRWEB) March 22, 2016
New Political Party: American Shopping Party
Sustainability meets Direct Action Democracy
The American Shopping Party (ASP), is now on Hawaii's ballot as its newest political party.
First objective of ASP: to get 50 million shoppers buying American Made (1) on the first Saturday of each month.
That is a half trillion dollars (2), bigger then Wal-Mart annual revenue (3) and a half million manufacturing jobs(4).
If 50 million shoppers show up with half $ trillion budget, most every store will have something American Made on that day . It's really just that simple. (5) Welcome to Economic Democracy. (6)
The good news: about 50 million is the number of women that go shopping every Saturday anyway. (7)
They need only walk into stores and ask: 'Can you please show me your American Made?'
ASP sees this would be an instant revolution; fun, simple, jump start America.
The USA Economy (GDP) is almost $20 trillion a year. (8) ASP estimates that if just 30% of this was American Made , we could have 100% employment. That is why 1 day a month is almost enough to make all the difference. (9) That's 2 weeks a year.
Buy American is a gateway issue. ASP finds it slides right into Buy Local. The buy local movement in Hawaii only has a 5% to 7% market penetration. ASP can get that up to 20% with just 200,000 friends committed to buying locally made on that 1st Sat of every month.
Hawaii has one added bonus: Tourism. ASP gathers that if just 7% joined in, that's $8 billion a year. The local economy will boom. That means throwing a party every tourist wants to join.
ASP is looking for 200,000 friends to join our Hawaii launch for this 1st Saturday party. It will build the local communities, create great jobs across the country and jump start America. It's 4th of July meets American Idol of Entrepreneurs - every month.
ASP packaged this as a political party to tap all the pent-up frustration into a simple, fun and effective action step. Every dollar is a vote.
The American Shopping Party is developed by Raghu-nomics, the economic series of 8 books by Raghu Giuffre.
ASP will be announcing other supporting vendors, shoppers and groups shortly.
For more information:
American Shopping Party: Facebook
Raghu-nomics: Facebook
808-935-8829
prezraghu(at)yahoo(dot)com
LinkedIn
https://www.linkedin.com/in/raghu-giuffre-0b611018?trk=hp-identity-photo
1. All products with 50% to 70% of the final product made in and by the USA
2. That is $1,000 per shopper ($400 in staples, $200 in auto, $200 big ticket electronics, $200 misc)
3. Wal-mart in gross revenue 2015: $480 million vs $500 billion by 50 million shoppers at $1k per shopper. https://en.wikipedia.org/wiki/Walmart
4. This comes to one manufacturing job per $100k. This maybe used as a rough estimate given that the figure changes according to industry and product line. The primary point is that manufacturing jobs provide better wages and benefits then most retail and other low end paying jobs and so each manufacturing job generally has corresponding support jobs like coffee shops, supermarkets, auto shops etc. As such, each manufacturing job can represent several additional jobs as well.
5. This would not be 'buy exclusively' American Made, but rather, a budget of that size and an army of shoppers this big would motivate a lot more stores to carry something American Made on that then otherwise do so today. Because it's one day a month, it makes it not only easy and fun for a store to organize highlighting their American Made products, but builds out the infrastructure of interest, availability and ease for retailers to participate. Many stores will carry American Made products for just that one day, but that is enough for it means 2 weeks a year. in total
6. Raghu-nomics is building upon the concept and power of a new brand of democracy: Economic Democracy. Buying American Made products on this 1st Sat is but only the beginning.
7. 41 million women go grocery shopping. ASP figured there was at least 9 million going to malls. Likely significantly more. http://timeuseinstitute.org/Grocery%20White%20Paper%202008.pdf
8. USA GDP: $19 Trillion: https://en.wikipedia.org/wiki/Economy_of_the_United_States
9. The USA Economy is so big that we can have 100% employment if just a fraction of our consumption was of American Made products. This is not true of any other country.