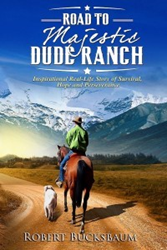 Mancos, Colorado (PRWEB) March 21, 2016
Enterprising guest ranch owner Robert Bucksbaum has recently published his debut memoir, "Road to Majestic Dude Ranch". As the esteemed Colorado ranch continues to earn glowing reviews from guests around the world, Bucksbaum eagerly shares the extraordinary story of how it all came to fruition.
After enduring an abusive childhood in Kingston, Pennsylvania, Bucksbaum longed for a better life. He dreamed of a career in Hollywood. From dreams to devotion, the opportunity appeared within reach after he wrote a screenplay and bought a one way ticket to Los Angeles. Sadly, the dream was soon shattered as the harsh realities of living in the city set in. In quick succession, he wound up homeless, penniless and living on the streets. Just as Bucksbaum began to losing the very will to live, he made a decision that would reverse the course of his life.
In 1988, the struggling California transplant enlisted in the US Army as a Paratrooper. Always eager for a new challenge, the army pushed Bucksbaum to his limit, teaching the value of hard work and the skills of survival. Following years of service and some incredible adventures, domestic and overseas, Bucksbaum was honorably discharged. Ready and equipped to take on another challenge, he returned to Los Angeles, where a new dream awaited.
Much like the character played by Jim Carey in the 2001 film, "The Majestic", Bucksbaum sought to rebuild his life. In time, he went on to purchase a historic movie theatre, christening it "The Majestic Crest". Numerous Hollywood luminaries began to rent the theatre for premieres and film shoots and Bucksbaum soon had some unique encounters with celebrities and Hollywood elite. However, the business of keeping a single-screen historic theatre in business proved to be a cutthroat endeavor rife with setbacks. After years of battling studio executives, Bucksbaum decided to embark upon a new adventure.
The mountains and streams of southwest Colorado provided reassurance that once again it was time for a change. He left Los Angeles and purchased a ranch. Once he saw the grandeur of the area, he fully realized how "The Majestic" was particularly fitting. A family owned and run ranch since 1951, Bucksbaum sought to bring it into the modern age with upgrades and world-class amenities. This new undertaking would again put his endurance to the test. Bucksbaum learned to run the ranch from the ground up. This determination paid off. The Majestic Dude Ranch has been hailed as one of the top 50 guest dude ranches in the world and heralded by glowing reviews on Trip Advisor, and across the Internet.
Bucksbaum continues to live his dream and hopes that others will be inspired by his life story and tenacious spirit of reinvention. "Road to Majestic Dude Ranch" is now available at http://www.roadtomajesticduderanch.com or Amazon.com.