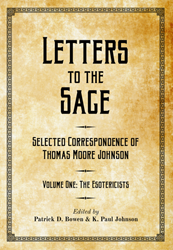 It will be impossible in the future to discuss the Hermetic Brotherhood of Luxor, the Theosophical Society in America, or occultism in America during the last decades of the nineteenth century without reference to this book -- John Patrick Deveney
Forest Grove, Oregon (PRWEB) March 22, 2016
The Typhon Press announces the immediate availability of its newest title, Letters to the Sage: Selected Correspondence of Thomas Moore Johnson, edited by Patrick D. Bowen and K. Paul Johnson.
Thomas Moore Johnson, the Sage of the Osage, was a small town lawyer in western Missouri whose international correspondence was largely a result of his work on The Platonist, a short-lived but influential journal published intermittently from 1881 until 1888. During this period, Johnson was instrumental in the development and expansion of two esoteric organizations: the Theosophical Society (TS) and the Hermetic Brotherhood of Luxor. Johnson served on the American Board of Control of the Theosophical Society, but he became more seriously involved with the Hermetic Brotherhood of Luxor, a secret society with a focus on Western occult traditionals, rather than the occult traditions of the East.
Letters to the Sage (Volume One: The Esotericists) provides readers with a view of the relationships, organizational struggles and intellectual and spiritual explorations of several dozen of the key figures working within the Theosophical Society and the Hermetic Brotherhood of Luxor during the early years of America's occult revival. Including more than 200 letters, as well as perhaps the earliest known evidence of the organized study of the tarot, yoga and Sufism in the United States, Letters to the Sage (Volume One: The Esotericists) is an essential book for anyone interested in the history of esotericism in the United States.
John Patrick Deveney, one of authors of The Hermetic Brotherhood of Luxor: Initiatic and Historical Documents of an Order of Practical Occultism, said after a review of Letters to the Sage that:
"It will be impossible in the future to discuss the Hermetic Brotherhood of Luxor, the Theosophical Society in America, or occultism in America generally during the last decades of the nineteenth century without reference to this book. The authors have exhaustively researched Johnson's correspondents and their myriad common esoteric interests and woven them into a revealing tapestry of the times. The book is invaluable, instructive, erudite and exhaustively thorough, but it is also a fascinating review of a colorful era in our intellectual history."
The text is available immediately from Amazon in the US and Europe, and directly from the Typhon Press web site.
Full Contact Information:
Marc Demarest
The Typhon Press
Fountain House, Suite 9000
2011 17th Avenue
Forest Grove, Oregon 97116
Web URL: http://www.thetyphonpress.com/catalog.html
Photo Link: http://www.thetyphonpress.com/johnson_cover_mockup.jpg