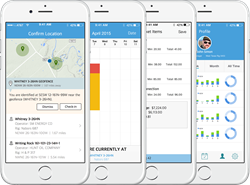 "Every business can benefit from the productivity gains that using mobile apps can provide, regardless of size" - Norman Newton, CEO
Houston, TX (PRWEB) March 24, 2016
Knomatic, a leader in mobile solutions and services for the enterprise, today announced a self-service model aimed at users seeking increased productivity through mobilization of analog processes and forms. The self-service model provides access to the Knomatic Technology Platform™ through the Knomatic website.
"Today we announce access to the Knomatic Technology Platform™ through our website thus providing easy access and use of the Platform by users regardless of whether small or medium size or within a large enterprise," says Norman Newton, Chief Executive Officer. "Essentially, a client can build their own operational apps through our Studio and have the same access to the best-of-breed mobile technology that large companies have," said Blake Ratliff Vice President of Business Development.
Knomatic Version 4.0 offers an easy solution for businesses that want to modernize with mobilization without the need for expensive mobile developers or long development cycles. To maintain company branding, businesses can personalize app design features. To simplify reporting and form submissions, businesses can pick and choose what information needs to be displayed on mobile forms. To increase safety and employee preparedness, businesses can require mobile acknowledgement of location checklists.
For regular Knomatic news, follow the company on LinkedIn (https://www.linkedin.com/company/knomatic) and Twitter (@knomatic). To sign up for Knomatic Self-Service now, visit https://www.knomatic.com/self-service-sign-up/.