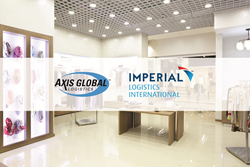 Axis and Imperial Logistics International are ideally paired as partners in our global solution for retail logistics.
North Bergen, New Jersey (PRWEB) March 22, 2016
Axis Global Logistics and Imperial Logistics International, two global leaders of supply chain solutions for the worldwide retail industry, have established a strategic partnership offering retailers unparalleled single-source service across Asia-Pacific, Europe and North America.
"Axis and Imperial Logistics International are ideally paired as partners in our global solution for retail logistics," said John Cheringal, a Managing Partner and one of the founders of Axis Global Logistics. "Our individual strength's combine seamlessly in a well vetted record of successful engagements over many years. Our clientele has full access to the complete resources of both companies through a familiar single point of contact."
"We believe that there is true synergy between Imperial Logistics International and Axis and our commitment to deliver seamlessly integrated supply chain solutions to global retailers with real-time, end-to-end transparency and efficiency through a single source," said Michael Sterk, Director Business Unit Retail & Consumer Goods of Imperial Logistics International. "This partnership will provide current clients, new clients and future joint clients access to strong local expertise and resources from Imperial across Asia-Pacific and Europe; and from Axis in North America."
In an ultra-competitive retail industry, Axis and Imperial Logistics International are unique in their ability to deliver a true end-to-end 3PL capability and service from factory floor to retail store through an industry leading web-based technology platform. Their operational capabilities in each region, when leveraged by their experience and expertise, deliver a true turnkey solution that optimizes costs and efficiencies throughout the retail supply chain. "By maintaining strict adherence and legal compliance to regulations in each region; our offering delivers optimal success while reducing risk in each local market," Cheringal added.
About Axis Global Logistics
Axis Global Logistics is a third-party logistics (3PL) provider with 12 locations and over 1,500 agents worldwide, including in North America, Europe, and Asia. Founded in 1997 by veteran logistics professionals with decades of experience, the company provides clients across a broad array of industries and business sectors with deep expertise in supply chain management and the highest level of quality assurance. Axis' industry specific supply chain solutions are built on the knowledge of a powerful leadership team as well as industry leading web-based technology that provides clients with flexibility and real-time visibility and control throughout the process. For more information, visit http://www.axisg.com.
About IMPERIAL Logistics International
As a wholly owned subsidiary of the South African company IMPERIAL Holdings Limited, IMPERIAL Logistics International is responsible for coordinating and managing all the international logistics business of IMPERIAL Holdings Limited outside Africa. The varied portfolio of services at IMPERIAL Logistics International, which has its headquarters in Duisburg, is separated into two divisions: the Group pools all its transport services in the Shipping and Road business units in the IMPERIAL Transport Solutions division. The IMPERIAL Supply Chain Solutions division covers all the services in the contract logistics, contract manufacturing and warehousing sectors for the Automotive, Industrial, Retail & Consumer Goods and Chemicals business units. Working together, both divisions provide a full and transparent range of services from one source along the complete supply chain. IMPERIAL Logistics International employs more than 7,500 people and generates turnover amounting to EUR 1.2 billion at 150 business locations. For more information, visit http://www.imperial-international.com.