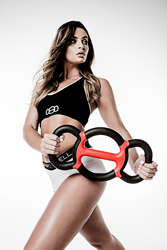 "From the start, I was impressed with the workout Gripbell provided," DiMarco said, "The number of different exercises you can do coupled with how intense the workout is, Gripbell is definitely impressive."
Pleasanton, CA (PRWEB) March 22, 2016
Gripbell, the revolutionary versatile workout equipment system that gives users a full body workout, has already raised close to $350,000 through crowdfunding and is currently live on Indiegogo's InDemand program.
Already one of the most successful crowdfunding projects of all time on Kickstarter and Indiegogo, Gripbell is giving users one last chance to purchase their innovative workout equipment system through Indiegogo's pre-order system.
The timing couldn't be better as product model and America's Next Model Cycle 22 Winner Nyle DiMarco is set to star in the upcoming season of ABC's Dancing With the Stars while showing off the physique he earned through being a devoted user of Gripbell.
"From the start, I was impressed with the workout Gripbell provided," DiMarco said, "The number of different exercises you can do coupled with how intense the workout is, Gripbell is definitely impressive."
Similar to free weights, Gripbell provides unstable force which is the key to effective strength training. Unlike free weights though, Gripbell has a perfectly distributed weight so that the user can challenge themselves to a more intense routines without worrying about losing control of the weight. It is easy on the skin and hands. There is no direct contact with metal or hard materials, which reduces the chance of the equipment slipping from the user's hands causing pain or injury.
Gripbell is designed to let users do more in their fitness routine with less equipment. From pros to amateurs of all ages, anyone at any stage of fitness can use Gripbell.  There's also no limit to what the versatile Gripbell can be utilized for including stretching, physical therapy, strength exercises, yoga, dance, aquatics, oar-rowing routines, and more. Its design allows the user to easily exercise with the GripBell indoors or outdoors, at home and even take it while traveling.
Gripbell's design is dynamic stimulating the burn factor to be multiplied several times during the workout. When well into their workout, users said that the 3lbs Gripbell began to feel like 15lbs, and the 5lb Gripbell began to feel like 25lbs.
Gripbell is currently live and available to purchase on Indiegogo: https://www.indiegogo.com/projects/gripbell-versatile-grip-workout-differently--2#/
About Gripbell
Established in 2015,Gripbell seeks to replace the existing dumbbell, barbell and kettlebell workout equipment. GripBell is an innovative versatile workout equipment that delivers far more workouts and functions than meets the eye.
To learn more about Gripbell, please visit http://www.gripbell.com
###