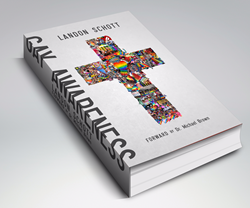 We need Bibilical Clarity in a sexually confused world, states author Landon Schott
Austin, TX (PRWEB) March 21, 2016
Author Landon Schott is offering insight on how he believes the church is making mistakes concerning gay awareness this Easter holiday. Church attendance this weekend across America will be jam packed as this is typically one of the highest attended church weekends in the nation according to the latest statistics from Rasmussen Reports. Biblicially speaking, it's a time Christian followers reflect on what Jesus did on the cross to free us from our sin and honor God for raising Jesus from the dead.
"Over the years, the church made three primary mistakes in dealing with sexuality and those who struggle with same-sex attraction. The first mistake was to make homosexuality the greatest sin. Homosexual practice is not the greatest sin. Pride is," states Landon Schott, author of The Gay Awareness book. "It's because of pride that Satan and his angels fell from heaven. Pride keeps us from repentance. It needs to be noted that the slogan for the community is "pride." Proverbs 16:18 says, "Pride goes before destruction." The pride of man hardens our hearts and keeps us from soft hearts surrendered to the will of God. Pride keeps our hearts and spirits at war with the perfect will of God."
"The second mistake the church has made is that it has not addressed homosexuality," Landon goes on to state. "When this particular issue is unaddressed by the church, it leaves room for many unbiblical opinions and immature conversations to fill in the blanks. Perhaps during the Easter season, churches will be given the opportunity to love on anyone who comes in their doors."
Landon says it best saying, "the third and most harmful mistake many churches have made is to affirm the sinner in his or her practice of homosexuality. It's impossible to affirm what God never affirms. It's impossible to call good what God never called good, and it's impossible to call blessed what God never called blessed. Because of the lack of biblical awareness, many churches have given in to the pressure forged in hell and embraced by man, affirmed homosexual practice, and asserted all that comes with it is blessed by God."
Let's not make these mistakes any longer. Let's love people and not elevate this particular sin above all others. Let's not wait for the conversation to come to us but meet people in the conversation with kindness and respect. And lets not endorse any form of sexual sin (heterosexual or homosexual).
Author of the Gay Awareness Book, Landon Schott is the founder and president of Rev Ministries and RevTV.com and online 24/7 youth and young adult network dedicated to turning the heart of this generation to Jesus through Christ-centered media. Landon is also the author of Jezebel: The Witch is Back.