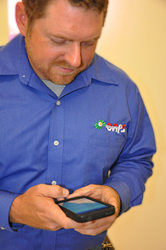 Providing our technicians with the information they need to get the job done correctly and efficient while satisfying our customers' needs is essential.
Houston, TX (PRWEB) March 22, 2016
Custom Air Products & Services, Inc. (CAPS), a leading commercial and industrial heating, ventilation and air conditioning (HVAC) company based in Houston, Texas (US) is proud to announce the upcoming roll-out of their new mobile technician dispatch program, Key2Act's MobileTech.
"In our HVAC Services division, the greatest opportunity to control costs correlates directly to the efforts and activities of our field service technicians," points out Service Operations Manager Corrie Haines. "Because the field service technician is often the primary factor in customer satisfaction, providing our technicians with the information they need to get the job done correctly and efficiently while satisfying our customers' needs is essential."
The MobileTech product provides technicians with the ability to electronically complete service tickets, fill out required forms (refrigerant tracking, for example), distribute a summary of work performed via email, obtain approval signatures from customers, and more. The product also provides field technicians with service histories, in the field, in order for them to provide more informed diagnoses and expedite repairs when possible.
According to the company that owns the technology, The Halden Group, "MobileTech can improve the accuracy of data capture, guide decision making and enforce standards and best practices. Productivity efficiencies are realized when field workers are enabled to update schedules, add parts and materials usage, record expenses, send and receive e-mail messages, manage scheduled maintenance in addition to eliminating redundant or inefficient data entry."
As CAPS Service Manager David Loya explains, "our goal is to achieve greater communication between the technicians in the field, our office personnel, and our customers so that maximum performance of customer equipment can be realized."
Implementation of the new software began at the beginning of the year for CAPS with intensive training for management, supervision, and office personnel. Roll-out efforts remain on schedule as it is currently being presented to, and implemented by, a few technicians at a time. Roll-out completion and full implementation is scheduled to begin on Monday, April 4, 2016.
Any questions about this product or its implementation at CAPS may be directed to David Loya or Corrie Haines at 713-460-9009.
About Custom Air Products & Services
Custom Air Products & Services, Inc. is a full-service HVAC company that specializes in the design, construction, installation, modification, and servicing of industrial and commercial air conditioning equipment. CAPS employees are committed to providing exceptional custom design and quality workmanship at competitive prices.
Custom Air Products & Services currently occupies five (5) modern facilities, totaling 200,000 square feet in size. These buildings include administrative and engineering offices, training facilities, a filter warehouse, and service shops for fabrication, manufacturing, and modifications. CAPS services are provided to customers throughout the United States and Mexico while their manufactured products have been delivered to sites around the world. Currently CAPS has equipment operating on six (6) continents and in 52 countries.