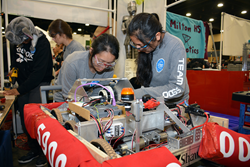 At Shaw, we're looking for the next innovators, problem solvers, and creative thinkers – people like all of the incredible students competing in FIRST events.
Dalton, Ga. (PRWEB) March 21, 2016
Shaw Industries Group, Inc. (Shaw) has extended its extensive educational partnership program to include mentoring and sponsorship of FIRST® Robotics Competition and FIRST® Tech Challenge events and/or teams in Georgia. The company has long supported programs from reading to robotics to help cultivate the workforce of the future – to foster innovation and to help create a better future for the communities in which it operates.
With more than $1 billion invested in new equipment, technology and processes over the past few years, Shaw's operations are more complex than ever. As the company focuses on innovation for its products, services and processes, it needs designers and data scientists, engineers and electricians, machinists and marketers with a higher skill level than in the past.
FIRST (For Inspiration and Recognition of Science and Technology) is an international organization started by Segway inventor, Dean Kamen that aims to inspire young people to participate in science and technology.
Shaw's support of the organization in 2016 includes:

Providing mentors and financial support to individual teams including the Cartersville High School FIRST Tech Challenge team and Northwest Georgia College and Career Academy FIRST Robotics Competition team
Sponsoring and providing volunteer judges and other significant on-site support at the FIRST Robotics Competition qualifier event held in Dalton March 18-19, 2016, which featured dozens of teams from north Georgia – including metro Atlanta, Rome, Dalton and Toccoa
"At Shaw, we're looking for the next innovators, problem solvers, and creative thinkers – people like all of the incredible students competing in FIRST events," said Brian Cooksey, Shaw's director of operations training and development. "I've been impressed by the creative ideas and fresh thinking these young men and women are bringing forth."
For Shaw, FIRST is one of many ways it works to build the workforce of the future. The company has fostered an expansive array of education programs to provide students from early education through college with skills and training necessary to take advantage of the next generation of manufacturing careers.
Such STEM-focused programs supported by Shaw include:

Camp D.E.M. (Design, Engineering & Manufacturing), an annual, week-long summer camp for middle school students that educates about career opportunities in manufacturing through hands-on learning, and
Great Promise Partnership, which helps high school students earn their diplomas through paid, on-the-job training while emphasizing real-world skills, mentoring and goal setting.
"We are committed to shifting the image kids have about manufacturing and, in doing so, we believe we will help change the game in workforce development and create even better products and services for our customers," said Cooksey.
About Shaw Industries
The world's largest carpet manufacturer and a leading floorcovering provider, Shaw Industries Group, Inc. is a vertically integrated manufacturer that supplies carpet, hardwood, laminate, resilient, tile & stone flooring products and synthetic turf to residential and commercial markets worldwide. A wholly owned subsidiary of Berkshire Hathaway, Inc. with more than $4.8 billion (USD) in annual sales and more than 22,000 associates, Shaw is headquartered in Dalton, Georgia, with salespeople and/or offices located throughout the U.S., as well as Australia, Canada, Chile, China, India, Mexico, Singapore and the United Kingdom. For more information, visit shawinc.com.