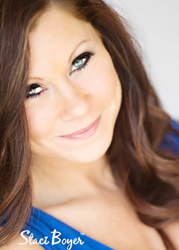 "Somehow the universe provided me with the time and funding and I believed without a doubt that I could do this. It is one of my proudest moments, and I hope it gives people the strength, peace and motivation they need."
Naperville, Illinois (PRWEB) March 24, 2016
Being stuck in a place and having fear about moving forward are not good strategies to creating a fulfilling and successful life. Staci Boyer, motivational speaker and Naperville, Illinois-based author, gives busy people the knowledge they need to improve their lives through her audiobook Motiv8n'U which is now available at the iBooks store.
Boyer's unabridged audiobook is a manual for whole life wellness. Listeners will hear Boyer's positive energy and attitude radiate as she encourages them to focus on eight key areas of their lives simultaneously so they can create the lives and bodies that they want and deserve. Some of the areas she touches upon focuses on relationships, vocations and financial well-being.
"When something seems out of reach, it makes me want it more," says Staci Boyer. "Somehow the universe provided me with the time and funding and I believed without a doubt that I could do this. It is one of my proudest moments, and I hope it gives people the strength, peace and motivation they need."
The book includes Boyer's life story and how she overcame obstacles, learned from her mistakes and found her own path to uncovering her own motivators. She wants to impart to her readers that they can believe in themselves, make their own destinies, decide to not allow their ego to rule their decision- making and always have an attitude of gratitude.
"When you are a game maker, you change your destiny," Boyer says to her clients. "Your destiny becomes whatever you wish, dream and desire."
For more information on Staci Boyer, visit http://shop.teammotiv8nu.com/.
About Staci Boyer:
Motivational speaker Staci Boyer is an award-winning published author of Motiv8n'U published by Medallion Press. Motiv8n'U introduces and inspires its readers to take action with eight powerful core tips for personal acceptance, changeable behaviors and a healthy lifestyle. Staci's accomplishments include being a Navy Hospital Corpsman for 12 years, fitness educator, fitness competitor, wife and mother of two, general manager for a leading health club chain and the owner of Motiv8n'U Personal Training & Wellness Coaching. To inquire about speaking opportunities, download Boyer's speaker kit and find additional information at http://shop.teammotiv8nu.com/. Boyer's recently launched video series can be found at https://vimeo.com/motiv8nulive. ###