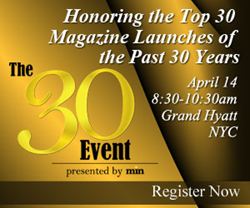 "We are excited to honor some of the most vibrant and compelling titles from the last three decades," says Dr. Husni. "Each has, in its own way, changed the media landscape."
New York, NY (PRWEB) March 22, 2016
On Thursday, April 14, min will host The 30 Event, celebrating the Top Editor, Publisher, Design Team and Magazine Launches of the past 30 years. From 8:30-10:30 a.m. at the Grand Hyatt, min will recognize these brands and individuals, selected by Dr. Samir Husni (aka "Mr. Magazine"), that have helped redefine magazine media, as we know it. The Top Launch of the past 30 years will also be revealed at the April 14th event.
"We are excited to honor some of the most vibrant and compelling titles from the last three decades," says Dr. Husni. "Each has, in its own way, changed the media landscape." As this is an event decades in the making, the media industry's top executives will be in attendance to honor the magazine brands, teams and individuals. Guest presenters include:

Christine Guilfoyle, SVP and Group Publisher, Meredith
Bonnie Fuller, EIC/CEO, HollywoodLife
Mike Perlis, CEO, Forbes
Kate Kelly Smith, Publisher, House Beautiful
Additionally, min is delighted to honor its own. This year marks editor-in-chief Steve Cohn's 30th anniversary, so there is no better occasion to celebrate his time as one of magazine media's best advocates and historians.
Visit http://www.minonline.com/The30Event to view the full list of honorees.
For questions about attending The 30 Event, contact min's Rachel Feldman at rfeldman(at)accessintel(dot)com. For information about becoming an event sponsor, contact min's Tania Babiuk at tbabiuk(at)accessintel(dot)com.
About min: min is the media industry's trusted source on the consumer and b2b magazine business, reaching thousands of media executives through print, online and in-person events. For more than 60 years, min has been serving the magazine and media community with unparalleled coverage of this ever-changing industry. For more information, visit min at minonline.com.