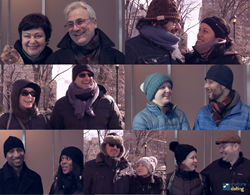 We wanted not only to get some insights but also remind couples that they are happy to have each other, - Executive Producer Anastasia Iarkova says.
New York City, NY (PRWEB) March 23, 2016
Maturedating.com by NSI Holdings Ltd vs Shea Glove hit the streets of NYC on 14th of February looking for couples in love to ask them some questions:

You look like you just got married. What's your secret?
When the last time your partner surprised you?
What do you love the most about your partner?
Sometimes a few questions are enough to remind people how lucky they are to be in love.
Online dating website maturedating.com in cooperation with young and popular director Shea Glover decided to hit the streets of NYC to remind couples that they are the wealthiest people in the world.
Take a look at the video to find out little secrets shared by mature couples about their relationship.
Seven absolutely different couples showed us what love truly is and how simple gestures can make relationship stronger and smiles wider.
Fourteen people in the framework of a 3-minute video proved that love has no borders, age or time frame; love is a state of mind that makes us complete.
Production Credits
Director, Main Camera Operator, Editor: Shea Glover
Camera Operator: Justin Giegerich
Composer: David Sullivan-Dart
Filming Assistant: Alina Bilokon
Executive Producer: Anastasia Iarkova
Co-Executive Producer: Tatiana Mikhalchuk
Shea Glover is a director, actress, writer, who is best known as an author of the viral video on YouTube "People react to being called beautiful", that recently hit 10 ml views
Maturedating.com by NSI Holdings, Ltd. is the easiest to use online dating website for people over 40 years old who are looking for serious relationship.
About NSI Holdings, Ltd.
NSI Holdings offers a complete suite of B2C services. Our rich, extensive capabilities, across multiple platforms including web, mobile and apps allow users to quickly and easily discover, meet and date people who share common interests and lifestyles. We believe relationships lead to a richer, fuller life. NSI Holdings online dating sites now comprise over 110 million members, spanning 50 countries and 20 languages.
Everything we do is inspired by our customers. We are working hard to better understand the social and dating interests of our users. This allows us to focus on specific needs, providing customers with advanced online dating technologies and industry best practices.
NSI Holdings Ltd. also owns Cupid.com, Loveagain.com and Uniformdating.com