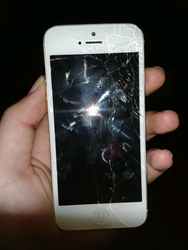 iPhone 5 LCD and iPhone 5C LCD much cheaper than before,market saturation and have 6S published.
New York, NY (PRWEB) June 01, 2016
Global Trade Electronic (USA) INC. (GTE), a prominent developer of smartphone LCD screens and accessory products, announces its new LCD screen recycle program. Through the program, GTE will send a free shipping label to customers wishing to recycle their broken LCD screen. Once the company receives the screen, its professional teams will test the functionality and authenticity of the LCD and, based on those results, will determine a price to offer for the broken screen.
To sign up for the program, simply visit GTE's website and fill out the recycle form. Free shipping labels and test results will be sent by way of email, and payments will be paid through PayPal or a bank account.
A GTE spokesperson said, "GTE's LCD screens are the highest quality LCD replacement screens you can find on the market right now and the prices are very competitive. Our LCDs go through a rigorous quality control process with testing conducted at key intervals within the production process."
Nowadays, new technology in smartphones, especially the gadget's LCD screens, come at a unprecedented pace due to increased competition and consumers' thirst for better and more advance gear. LCDs are growing bigger, more dynamic and clearer. GTE's technology teams stay on their toes to keep pace with these new development to meet clients' needs. Its range of products features the latest technology to meet the requirements of the global market.
The company's ultimate goal is to satisfy their customers through high standards in both their products and customer service. Its teams are ready to meet the new needs of customers for screen replacements as newer versions of smartphones roll out.
"We are engaged in the research, design, development, production, marketing and service of LCD screens of prominent smartphone manufacturers and brands," the spokesperson continued. "Our success has been built on the firm foundations of delivering high quality goods and exceeding customer expectations in whatever we do. Our company has introduced a wide range of new items according to the requirements of international markets as well as new and old customers."
The company has a large worldwide customer base with clients in every part of the world, including Europe, America, the Middle East and Southeast Asia. Their products are available for sale on all major online marketplaces. The company looks forward to expanding their global customer base to achieve a greater status as a trusted LCD screen manufacturer globally.
GTE's market leader status allows them to offer their buyers a winning combination of affordability in terms of prices, the highest standards in product quality and the most convenient customer services, ensuring the customer's online shopping experience is streamline and hassle free.
For more information, please visit https://gtescreen.com/. To sign up for the new recycle program, please see http://recycle.gtescreen.com/.
About Global Trade Electronic (USA) INC.
Global Trade Electronic (USA) INC. is a New York City-based mobile parts and accessories distribution company with offices in Hong Kong and manufacturing/production facilities in Shenzen, China. Our main focus is on the distribution of our smartphone LCD screens as well as other mobile accessories and necessities. We started with humble beginnings in 2012 and have since grown into one of the nation's largest suppliers of LCD screens and accessories servicing wholesalers and retailers in the USA.