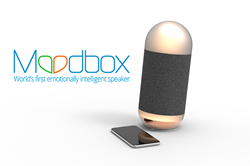 One song can change the way you're feeling and quickly add a smile to your day
(PRWEB) March 21, 2016
MoodBox, the high quality wireless speaker with 360 degrees Omni-directional sound, has now surpassed its initial goal by raising over $40,000 on Indiegogo since launching the world's first emotionally intelligent speaker on February 22nd.
Over 200 backers have pre-ordered the revolutionary wireless and Bluetooth enabled, voice controlled Hi-Fi speaker with emotion and mood recognition capabilities.
"We're very happy we have reached our goal and would like to thank our early backers," explains creator Pascale Fung, PhD. "We have a very unique product that we think many people will love and we're hoping for a strong finish to our campaign in the upcoming weeks."
The MoodBox speaker operates with cutting edge sensory recognition technology named "Emi". Emi constantly collects and analyzes audio signals and music lyrics to provide efficient retrieval of millions of songs by genres, styles, mood, and artist.
"Music is a great way to enhance a person's mood," added Fung. "One song can change the way you're feeling and quickly add a smile to your day."
Emi not only converses, but also suggests appropriate music, adjusts the lighting to music, reports on weather conditions, and offers wake-up calls.
MoodBox's app provides a complete analysis showing mood fluctuations based on what the user have been listening to, what they have been saying and how they having been saying it.
MoodBox Features Include:

Wi-Fi and Bluetooth Enabled
Hands-Free
Voice Controlled
Multi-Lingual. Understands Mandarin Chinese and English speakers with American, British, Indian and Australian accents
Available in two styles: Classic and Premium
For more information and to pre-order MoodBox, visit: https://www.indiegogo.com/projects/moodbox-empowered-by-emi--2#/
About MoodBox/ iVo Technologies:
iVo Technologies was founded in 2014 by HKUST students, alumni with professor Dr. Pascale Fung. iVo builds intelligent machines that are more empathetic – robots that can recognize your emotion and intent and respond accordingly.
iVo's first product, MoodBox, is an emotionally intelligent wireless speaker that can sense your emotions and empathize with your feelings by sharing music and light that caters to your different moods.
It is also aware of the time of the day, the weather, and the music that you have been listening to and uses machine learning to learn how you listen to music on the device and what music you listen to.
You can control the device using voice commands. Voice commands in English and Mandarin are currently supported.
MoodBox is also a thermostat for your mood, having the ability to extract features from your voice to detect mood from what you say to the device and how you say it. By keeping a diary of your moods, you can easily find out if your job, your family, the day of the week or the weather influences your mood & why.
Pascale, a world leader in Artificial Intelligence research and technology has been recognized by The Scientific American, The World Economic Forum and by industry leaders worldwide for her advancements in this field. Pascale is a fellow of the IEEE and the ISCA. She is also a former member of technical stall at AT&T Bell Labs.