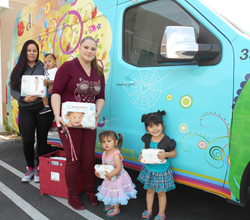 Los Angeles, CA (PRWEB) March 22, 2016
The diaper gap is a real problem, with its own hashtag, in this country. To address this #DiaperGap, the White House called on nonprofit leaders to explore ways to make diapers more accessible — and the Child Care Resource Center (CCRC) stepped up to the challenge. With donations from The Honest Company, buybuy BABY and Babies "R" Us, CCRC gave away 215,730 diapers in San Bernardino alone this March and over 500,000 diapers since the partnership. Ellen Cervantes, Vice President and Chief Operating Officer stated, "CCRC has been addressing this problem for some time but we need help. The agency serves close to 50,000 children, families and child care providers monthly. Clients struggle to provide the basic essentials. We are thankful to our community partners for their support."
According to the White House, almost 1 in 3 American families struggle to provide clean, dry diapers. At as much as $100 a month for one child, diapers are a pricey necessity just as important as food and shelter. Unlike many other essentials, though, there are no federal assistance programs for diapers. That means some low-income families may stretch the time between diaper changes, or reuse wet diapers, to make the most of their limited supply of costly disposables.
Statistics show that not changing diapers as often as needed may lead to:

An increased risk of rash, urinary tract and staph infections and hospital visits for babies
Feelings of sadness, stress and low self-esteem for caregivers, which can incite child abuse
There's no reason caregivers should have to choose between feeding and changing their babies.
To help low-income families provide diapers for their children, please stop by one of CCRC's centers to donate disposable diapers or make an online donation at http://www.ccrcca.org. Contact CCRC Communications at 1-866-67-4KIDS to let us know if your organization would like to partner with CCRC to help fight diaper disparity.
About Child Care Resource Center: The Child Care Resource Center (CCRC) cultivates child, family and community well-being. The agency serves the northern Los Angeles County region and the entirety of San Bernardino County.
###