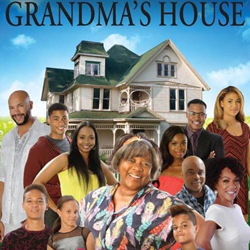 Los Angeles, CA (PRWEB) March 22, 2016
Marcus South Shores Cinema (located at 7261 S. 13th St, Oak Creek, WI 53154) is set to host the movie premiere of 'Grandma's House' on Sat., April 2, 2016. Milwaukee's own multi-business and Harmony Social Services CEO, Kimberley Zulkowski is proud to share the true story of her beloved grandmother, Margie Ree Harris, on the big screen. Produced and directed by veteran filmmaker and Overflow Entertainment's Paul D. Hannah (Marriage Chronicles, The Sin Seer, The Last Letter, My Favorite Five, and The Love Shack Gospel Musical), MzK!m Production's Kimberley Zulkowski will be making her film debut surrounding a storyline that is intimately personal. 
'Grandma's House' gives moviegoers a private and emotional look into the life of Executive Producer/Writer/Co-Producer once she moved into her grandmother's home after years of being tossed around the foster care system. Immersed with passion, faith, family, and truth, the film illuminates the trials and tribulations she faced living with a grandparent who stood grounded as an inner-city matriarch and pillar of strength to selflessly serve her family and surrounding community. 
What sets this biopic premiere apart from most red carpets, is the incorporation of Ms. Zulkowski's Harmony Social Services foster children and forever awareness project of the heart. While 'Grandma's House' no doubt pays homage to Margie, the evening is centered upon instilling hope for those children in the system who are often left hopeless and believe they will never find a way out. Zulkowski's entry into the film industry is proof that anyone can rise above their upbringing and survive, to shine like a star. 
"It is time to fill the hearts of abused and neglected children with hope. It is time to give them courage to overcome the abuse they have suffered. It is also time to recognize the true heroes in their lives, grandparents, foster parents, and those who have selflessly taken us into their homes and into their hearts. 'Grandma's House' is a representation of what a loving caretaker looks like," said Ms. Zulkowski. 
6:10 pm ― 6:30 pm         Press/Media Check-In
6:30 pm ― 7:30 pm         Formal Press Line
7:00 pm ― 7:30 pm         Movie Buffet 
7:30 pm ― 8:00 pm         Speakers 
8:00 pm ― 10:00 pm       Film Premiere
Filmed on area in Los Angeles, California, 'Grandma's House' embraces an exceptional cast which includes Loretta Devine (Crash, Being Mary Jane, Boston Public, Grey's Anatomy), Wendy Raquel Robinson (The Game, Steve Harvey Show), Alex Thomas (The Jamie Foxx Show, Just Married, 2 Can Play That Game), Jazsmin Lewis (Barbershop, Barbershop 2, Ideal Male, Deliver Us From Eva), Coco Jones (Let it Shine, Next Big Thing), Stephen Bishop (Moneyball, Battleship, The Rundown), and Jordan Calloway (Unfabulous, Drumline: A New Beat, DisCONNECTED).
Zulkowski and Hannah are celebrating 'Grandma's House' and showcasing it in AMC theaters nationwide beginning the week of April 29, 2016. Atlanta, Chicago, Columbus, Minneapolis-St. Paul, Tallahassee-Thomasville, Charlotte, Los Angeles, Ontario, and Philadelphia, are a sampling of the selected cities for theatrical release. Coco Jones, Kimberley Zulkowski, Paul D. Hannah, Mayor Tom Barrett, Judge Christopher Foley, Senator Taylor, Alderman Coggs, Congresswoman Glenn Moore, 70 plus Harmony Social Services foster children, plus many others are confirmed attendees to date. 
From Producer and Director Paul D. Hannah, ''Grandma's House was one of the most personal and inspiring films I've ever been a part of. It was challenging and rewarding to bring such a beautiful story to the screen. Kimberley Zulkowski's story and script was rich with faith and perseverance. I believe it will touch everyone who sees it."
Please note regarding interviews, all VIPs in attendance are open to Q&A on the red carpet and available by request pre-premiere with the exception of the foster children.
RSVP is required to attend/ cover.
About Overflow Entertainment: Overflow Entertainment is proud to partner with Mz K!M Product!ons on 'Grandma's House.' The film is moving, personal and inspiring. Overflow has several new features being released through Lionsgate Entertainment later this year. Overflow's President and Writer, Producer, Director, Paul D. Hannah is delving into the world of novel writing and will be releasing his first mystery/thriller this fall.  http://www.paulhannah.com/
About MzKim Product!ons: MzK!m Product!ions is a Milwaukee-based film production company currently producing films in Hollywood, CA with soon to be expansion for filming worldwide. Having just wrapped 'Love Shack: The Gospel Musical,' they have nine films slated for the 2016 fiscal year that include 'Color Blind,' 'The House Of David,' and '53206.' MzK!m Product!ions bases their projects from concept to creation on real-life storylines, thriving with soul and connectedness. A proud supporter of diversity, community-based and cultural themes, their messaging hopes to be life-changing and a true cinematic experience for the viewers. http://mzkimproductions.com/