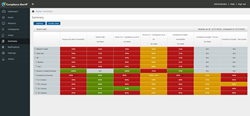 "Businesses worldwide rely on Compliance Sheriff to ensure content compliance with standards for privacy, accessibility, brand integrity, site quality, and data and information security." - Barry Field, CEO for Cryptzone
Waltham, Mass. (PRWEB) March 22, 2016
Cryptzone, a provider of dynamic, context-aware network, application and content security solutions, today announced the newest version of Compliance Sheriff™, its content-aware compliance automation solution, at the International Technology and Persons with Disabilities Conference in San Diego, Mar. 21-26, 2016. Compliance Sheriff 5.0 enables accessibility validation for dynamic and mobile websites, ensuring that web content is securely accessible by every person, from any place, anywhere, at any time.
It's a mobile, dynamic world and accessibility needs to keep up.
The rapid move toward dynamic web content requires solutions to meet end-user needs for content tailored by individual interest, situation and location. Today, equal access to web data, regardless of disability, device or web browser, is a must-have.
"Accessibility to information is critical to a consistent, high quality end-user experience, and unmanaged content puts organizations at risk," said Barry Field, CEO for Cryptzone. "Businesses worldwide rely on Compliance Sheriff to ensure content compliance with standards for privacy, accessibility, brand integrity, site quality, and data and information security. Cryptzone has transformed the conversation from one driven by fear of managing such an environment, especially in a world of litigation and regulations, to one of empowerment."
Web accessibility is mandatory in a dynamic, mobile world.
Companies have an evolving collection of internal and external websites, created by a large number of content developers. Most don't know how many web pages they have, even before an acquisition or product expansion. They face the challenge of managing multiple departments and locations, with content being provided by both technical and non-technical personnel. All of this content must comply with regulatory, privacy, quality, and branding standards, which change with new government and corporate oversight.
Compliance Sheriff ensures that online content complies with accessibility, privacy, quality, and custom standards and regulations, enabling the identification, tracking and correction of issues throughout all web properties. Packaged checkpoints, delivered by various modules, allow users to improve compliance as web assets increase and governments impose new governance regulations.
Key capabilities include:

Accessibility – every user gets equal access, everywhere.
Privacy – protect end user identities and privacy.
Brand Integrity and Site Quality – increase, drive customer satisfaction.
Data and Information Security – protect confidential and secure information.
Customization, Training and Services – support from Cryptzone's industry experts.
See today's blog for more information about this new release of Compliance Sheriff.
About Cryptzone
Cryptzone secures the enterprise with dynamic, context-aware security solutions that protect critical services, applications and content from internal and external threats. For over a decade, enterprises have turned to Cryptzone to galvanize their Cloud and network security with responsive protection and access intelligence. More than 450 public sector and enterprise customers, including some of the leading names in technology, manufacturing and consumer products, trust Cryptzone to keep their data and applications secure. For more information, go to http://www.cryptzone.com or follow us @Cryptzone.
Media Contact
Jessica Ann Morris
ZAG Communications for Cryptzone
+1.781.608.0499
jessica(at)zagcommunications(dot)com