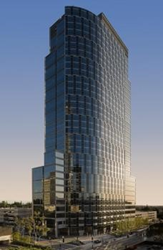 The redesigned space will feature a two-story sky lobby, outdoor terraces, state-of-art technology and a central, internal staircase connecting each of its five floors.
(PRWEB) March 22, 2016
ICM Partners is expanding its Los Angeles corporate headquarters in Century City. The talent and literary agency will remain at the same address, 10250 Constellation Boulevard, also known as Constellation Place, but will relocate from its current three-story space on floors 7, 8 and 9 to the top five floors of the 35-story high rise. ICM Partners, which signed a long-term lease, will occupy a total of 112,000 square feet. Additionally, the agency will receive exclusive building-top signage, the first tenant to have its identity on the tower since MGM.
The new headquarters, which has expansive views of the city from the Hollywood sign to downtown and the Pacific Ocean, will undergo extensive renovations prior to move-in, which is scheduled for this summer. The redesigned space will feature a two-story sky lobby, outdoor terraces, state-of-art technology and a central, internal staircase connecting each of its five floors.
Mark Sullivan, executive vice president, regional manager and director with global tenant advisory firm Savills Studley, represented ICM Partners in the transaction. "Our client was focused on creating a collaborative and stimulating work environment for its employees and one that represents the future," said Sullivan.
ICM Partners moved from its former Wilshire Boulevard address in Beverly Hills to its current building in Century City in 2007, where it initially occupied 93,000 square feet of office space.
Located in the heart of Century City at the corner of Constellation Boulevard and Century Park West, Constellation Place was built in 2003 by an affiliate of Chicago-based developer, JMB Realty Corp. A highly visible Los Angeles architectural landmark, the approximately 795,000-square-foot building was designed by Johnson Fain Partners.
Gary Weiss of L.A. Realty Partners represented the landlord in the transaction.
ICM Partners also has offices in New York and London.
###
About Savills Studley
Savills Studley is the leading commercial real estate services firm specializing in tenant representation. Founded in 1954, the firm pioneered the conflict-free business model of representing only tenants in their commercial real estate transactions. Today, supported by high quality market research and in-depth analysis, Savills Studley provides strategic real estate solutions to organizations across all industries. The firm's comprehensive commercial real estate platform includes brokerage, project management, capital markets, consulting and corporate services. With 27 offices in the U.S. and Canada, and a heritage of innovation, Savills Studley is well known for tenacious client advocacy and exceptional service.
The firm is part of London-headquartered Savills plc, the premier global real estate service provider with over 30,000 professionals and over 700 locations around the world. Savills plc is listed on the London Stock Exchange (SVS.L).
For more information, please visit http://www.savills-studley.com and follow us on LinkedIn and Twitter @SavillsStudley.
About ICM Partners
ICM Partners is one of the world's largest talent and literary agencies with offices in New York, Los Angeles, and London. The agency represents creative and technical talent in the fields of motion picture, television, books, music, live performance, branded entertainment, and new media. ICM was formed in 1975 through the merger of Creative Management Associates and International Famous Agency. In 2005, the company raised equity financing from Rizvi Traverse and institutional investors to fund strategic growth, and in 2006, ICM acquired the literary agency Broder Webb Chervin Silbermann. In 2012, the agency completed a management buyout and formed a partnership with the new name, ICM Partners.