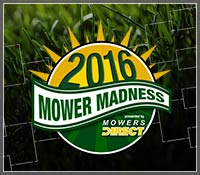 Bolingbrook, Illinois (PRWEB) March 21, 2016
The first two rounds of Mowers Direct's Mower Madness 2016 are complete, and the results are in as contenders move into Round Three. Many of the match-ups in Round Two ended in landslide victories, but a few of them turned out to be very close.
Scag and Jacobsen were a close match, but Scag took the lead in the end and will be progressing forward to Round Three in the Bluegrass Division. Snapper and Husqvarna were a good matchup in the Bermuda Division, but Husqvarna ended up taking the win by a very close margin.
The Fescue Division didn't have many close matches, but Ryobi put up a bit of a fight against No. 4 Bolens before falling to them 61-39. However, moving into the Bent Grass Division, Hustler and Big Dog went toe-to-toe and excited fans to the end when Hustler knocked Big Dog out of the tournament with 57% of the votes.
Round 3 Matchups
Round Three of Mower Madness 2016 revs up today and will continue for three days, ending on Thursday, March 24. The remaining 16 lawn mower brands are separated into the following four divisions.
Bluegrass Division
Dixie Chopper vs. Cub Cadet
Gravely vs. Scag
Bermuda Division
Ariens vs. Troy-Bilt
Toro vs. Husqvarna
Fescue Division
John Deere vs. Bolens
Poulan Pro vs. Weedeater
Bent Grass Division
Lawn Boy vs. Honda
Hustler vs. Kubota
Visit http://www.MowersDirect/MowerMadness to vote in Round 3 of Mower Madness 2016.