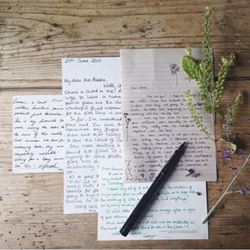 Those who have signed up for the Letter Exchange all miss writing letters by hand and remember the pen pal partnering projects that took place in the UK in the 1970s and '80s
Oakland, CA (PRWEB) March 22, 2016
Community Gift Exchanges: The Handwritten Letter Project Example
Elfster is proud to be a part of "The Handwritten Letter Project," a pen pal letter exchange created by the multi-talented Emma Mitchell -- a UK-based jewellry designer, craft teacher, writer and mum.
"Last summer I had an idea to write some of my blog posts by hand and exchange letters with fellow bloggers and creative folk," says Emma. "It had struck me that in this age of emails, DM's, Facebook notifications and texts we hardly ever pick up a pen and write a note to someone, except perhaps if it's their birthday or we need to tell them that we've put the bins out. I was rather overwhelmed with requests to exchange letters with my readers. It seems that I'd hit on something -- a desire to return to writing letters by hand as many of us did when we were children, and receiving envelopes in the post containing pieces of paper on which someone has written to you."
This concept of taking life back to a simpler time, if only for a short while, has caught on and "The Handwritten Letter Project" continues to grow, day by day. This unique Elfster exchange boasts nearly 800 creative pen pals from all over the world and will remain open to new participants throughout the year.
"I was keen to link the keen letter writers up with one another and at first was not sure how I could do it without a huge amount of admin," Emma explains. "I'd never heard of the website before, but it made me wonder whether I could use the exchange system to build the letter writing group."
"So far, the Handwritten Letter Exchange has [close to 800] participants," she adds. "It's a truly international group and includes letter writers from 10 countries round the world."
"Those who have signed up for the Letter Exchange all miss writing letters by hand and remember the pen pal partnering projects that took place in the UK in the 1970s and '80s," Emma explains. "They will have received the name of someone to write to and someone else will write to them, resulting in two potential pen pals. I'm hoping (and most of the group are too) that it's not just a case of a single letter being sent though. The ultimate aim is that I've introduced lots of long-term pen pals to one another and the letter writing will continue for a long time yet."
With a group this large, the task of managing participants from all over the world could seem a challenge, but Elfster is proud to support such a beautiful movement.
"The Elfster system is easy to set up and sign up to," Emma says. "It's automated, and it provides a hub for the group to chat and post any problems or enquiries that they might have and where I can answer their requests and draw partners for the latest sign ups." Group members also have the option to create wish lists, which will give their pen pals more insight into their personal style, and "may provide them with a little information about their pen pals before they reach for their stationery."
"The Handwritten Letter Exchange" is now open to new members, as Emma has extended the deadline for joining the exchange indefinitely. "Anyone who fancies exchanging slow mail with someone new can sign up here and I will draw partners every few weeks---it is now a rolling, ongoing project," she explains.
About Elfster.com
Elfster is the Web's top-rated online Secret Santa generator. Participants use the company's tool to organize a holiday gift exchange of any type, learn Secret Santa rules or how to play, organize family, office or friends and generally keep track of your holiday or Christmas gift exchange all conveniently online. Elfster makes it easy, free, and fun!
Elfster.com
http://www.elfster.com/