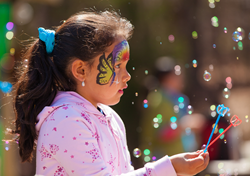 We stand ready to help and hope the public will partner with us in supporting the families we serve.
Raleigh, NC (PRWEB) March 22, 2016
The Autism Society of North Carolina (ASNC) will kick off Autism Awareness Month with a celebration on Saturday, April 2. The World Autism Awareness and Acceptance Day event, from 10 a.m. to 4 p.m. at Camp Royall in Moncure, is open to the public.
Throughout April, ASNC will focus on acceptance and inclusion for people with Autism Spectrum Disorder, not just awareness. The nonprofit organization is encouraging the use of the hashtag #A2AforAutism across social media to promote the message of communities moving from awareness to acceptance. People with autism have much to teach us, and they have unique gifts that can make our communities a better place to live for all of us.
"We encourage all North Carolinians to learn more about autism this month," said Tracey Sheriff, CEO of ASNC. "There are over 15,000 students with autism in our public schools, and tens of thousands of adults who need our help, encouragement, and acceptance. We stand ready to help and hope the public will partner with us in supporting the families we serve."
Free materials online
ASNC, which is the state's leading resource for individuals and families affected by autism, also has compiled free materials on its website for use in schools, clubs, places of worship, and other communities. The resources, at http://www.autismsociety-nc.org/acceptance, include:

Videos
Worksheets
Classroom exercises
Activity ideas
Tips on peer programs
World Autism Awareness and Acceptance Day
Families and self-advocates will gather April 2 for fellowship and fun at Camp Royall, with access to many of the camp's unique features, including the Snoezelen Sensory room and the zapline. The day's activities will also include outdoor games, music, arts and crafts, and a cookout. ASNC's summer camp program was established in 1972 and is the nation's oldest and largest summer camp program for individuals with autism. Last year, Camp Royall served more than 2,000 individuals with autism through its overnight camp and year-round educational and recreational programs.
Families will be available for interviews and photo opportunities. If you would like to set up a specific interview time, please contact David Laxton, Director of Communications, at 919-599-7257 or dlaxton(at)autismsociety-nc(dot)org.
Background:
The Autism Society of North Carolina was founded in 1970 by parents inspired to help their children with autism. Since its creation, ASNC has been a national leader for the creation of statewide supports for individuals with autism and their families. ASNC continues to improve lives today with innovative programming such as LifeLong Interventions, Employment Supports, direct-care services, and local support groups. ASNC also provides credible and respected counsel on issues related to autism and intellectual/developmental disabilities at the legislature and with policymakers. For more information, visit http://www.autismsociety-nc.org.