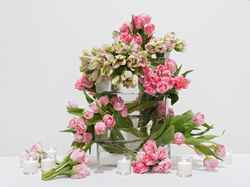 "It would be my pleasure to do it, and I want to make this my contribution to celebrating a great American designer and the Jewish Museum." Jerry Rose
Maplewood, NJ (PRWEB) March 23, 2016
Acclaimed fashion designer Isaac Mizrahi is being honored by The Jewish Museum with a retrospective exploring key trends in his work; from the use of color and prints, to witty designs that touch on issues of race, religion, class, and politics. The show, entitled An Unruly History, explores key trends in Mizrahi's provocative style as designer, artist and entrepreneur which have taken him on a spirited journey in the fashion arena. Most notably, his designs often unite opposites like Western-wear infused handmade lace, Adidas sneakers in place of high heels, handbags worn as hats, or humble cotton undershirts paired with floor-length taffeta skirts. The core of the dramatic installation features 50 looks from the designer's clothing label (1987-1998), the "semi-couture" collections (2003-2011) and his trailblazing line for Target.
For the gala opening, Mizrahi recalled meeting Jerry Rose, renowned floral and event designer, at a Bergdorf Goodman event. The celebrated designer reached out to Jerry Rose asking him to create the flowers. Rose is recognized for his treatment of flowers as art and events as great theater. His work is sought after by celebrated clients.
When Mizrahi approached Rose, citing the many similarities in their styles of modern glamour and the unexpected melding of elements, it seemed a natural pairing for this event. Rose replied to the request saying, "It would be my pleasure to do it, and I want to make this my contribution to celebrating a great American designer and The Jewish Museum."
Like Mizrahi, Jerry Rose designs exhibit great range, going from minimal to maximal using the color and texture of the flowers to create diverse effects. For the gala dinner, Mizrahi wanted tulips adorning the tables.The celebrated designer chose tulips as they are symbolic in his designs and reflect the grace of his design aesthetic. Rose used three varieties of tulips in gorgeous hues of pink, nestled in stacked glass vases in alternating sizes.
Recently, Rose is credited with his design at Bloomingdales "Tablescape Tech;" a luncheon for the Jewish museum at Bergdorf Goodman with Isaac Mizrahi and Betty Halbreich, author and noted personal shopper; and "Date with a Plate" in Philadelphia benefiting the ALS Foundation. He has also received numerous awards for his tireless efforts supporting the New Jersey Theater Alliance, and the Connie Dwyer Breast Center, Susan G Komen North Jersey Affiliate, Paper Mill Playhouse and the PG Chambers School.
###
Rose's design studio and shop are based in Maplewood, New Jersey.