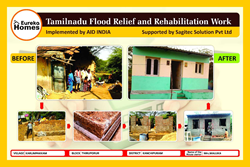 "We thank Sagitec Solutions for supporting us in this venture to help underprivileged families affected by the flood rebuild their homes," said Padmini Sreenivasan, project director for AID India.
Saint Paul, MN (PRWEB) March 23, 2016
Sagitec Solutions is helping Chennai, India rebuild after a 100-year storm ravaged the city in December 2015. The storm, which dumped nearly 11 inches of rain, came on the heels of the rainiest November in the city's history. The storm left incredible damage in its wake: more than 500 people were killed and more than 1.8 million people were displaced.
Sagitec Solutions, which has an office in Chennai, could not sit idle while the city grappled to rebuild. The custom software development company and their employees joined forces with AID India to build seven houses for underprivileged families who lost their homes during the flood.
The first home was handed over to the family last week; the remaining six homes are expected to be completed in the next week.
To read more, go to: http://bit.ly/22zmYNM