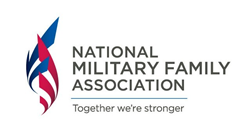 Military spouses experience a number of transitions throughout their military life journey...
Alexandria, VA (PRWEB) March 22, 2016
The National Military Family Association (NMFA), a nonprofit that works to strengthen and protect military families, is teaming up with Life Reimagined, a first-of-its-kind series of online and offline experiences created by AARP, to help military spouses through military life transitions. Life Reimagined guides people through life transitions by helping them discover new possibilities and connect with a community of people pursuing similar passions and goals.
"Military spouses experience a number of transitions throughout their military life journey, and Life Reimagined is a great tool to help them discover what it is they really want to do," said Joyce Wessel Raezer, Executive Director of NMFA. "There are any number of reasons why a military spouse might need to change career paths or explore new options and this tool will help them make the right choice for their passions and for their families."
Life Reimagined is also joining the ranks of other Four Star level NMFA partners because of their contribution to NMFA's many programs. In addition, they have offered 37 scholarships to military spouses to receive 6-months of Life Reimagined LifeMap services, including 240 minutes of coaching services.
"We honor the often silent sacrifices made by the thousands of military spouses and families supporting our troops, and wanted to give them a powerful tool that could help them navigate the multiple life transitions military life presents," said Emilio Pardo, President of Life Reimagined & Executive Vice President of AARP. "With LifeMap's interactive step-by-step program, which includes personal support and guidance from our certified coaches, military spouses and other family members can explore their gifts, passions and interests, discover what matters most to them, and begin acting on the opportunities and possibilities in their lives."
For more information on Life Reimagined, or to get started, please visit: https://lifereimagined.aarp.org/.
About the National Military Family Association
The National Military Family Association is the leading nonprofit dedicated to serving the families who stand behind the uniform. Since 1969, NMFA has worked to strengthen and protect millions of families through its advocacy and programs. They provide spouse scholarships, camps for military kids, and retreats for families reconnecting after deployment and for the families of the wounded, ill, or injured. NMFA serves the families of the currently serving, retired, wounded or fallen members of the Army, Navy, Marine Corps, Air Force, Coast Guard, and Commissioned Corps of the USPHS and NOAA. To get involved or to learn more, visit http://www.MilitaryFamily.org.
About Life Reimagined
Life Reimagined was launched by AARP in 2014 as a personal guidance system to help people navigate transitions, pursue their goals, dreams and purpose in life. Through groundbreaking online programs and tools, and powerful live experiences, today Life Reimagined helps people discover new possibilities in life. Begin reimagining at http://www.lifereimagined.org.