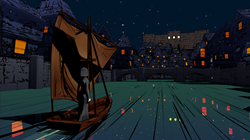 We wanted to give a citizens perspective of life in Tudor London instead of the usual Royal one.. Then some artistic license crept in so we re-imagined the cityscape a little, leaving the historical integrity with the names and people you'll find there.
City of London, United Kingdom (PRWEB) March 22, 2016
City Run London the debut title from indie developer City Quest Media releases on App Store and Google Play.
1545 .. Exhausted by demanding wives and civil unrest, the uneasy King Henry VIII has a web of spies across the capital looking for opposition. In an era as famous for its majesty as its gore this is the tale of one man who spoke out and the amazing adventure of another on a night long mission to save him.
Players guide the heroine Willa - known to the authorities only as The Moth - making use of her skills of invisibility and cunning in her quest to rescue Brother Joseph. She's his only hope of escape, so when the curfew bell tolls and the streets empty, it's up to her to race against the coming dawn and his inevitable execution. With spies all around and a price on her head players must keep the Moth hidden and out of the danger zone of characters' cones of vision to avoid dismissal to the last checkpoint. Her route is above the streets along the London wall that is pierced by 8 themed gate tower-game levels which requiring intuition, timing and stealth to win.
Using themes of hiding rather than combat, City Run immerses players in 16th century Tudor London with this cinematic game for mobile phones and tablets conceived by a group of award-winning writer-artists who share a single goal to make beautiful plot-driven adventure games set in history. This concept was developed with veteran virtual world builder Rohan Freeman of Sine Wave Entertainment.
The creative team behind the title includes illustrator Finlay Cowan (Pink Floyd, Audio Slave, Nirvana from the studio of Storm Thorgeson), multi award-winning composer-producer, Martyn Ware (Human League, Heaven 17, Tina Turner, 3D sonic art exhibits worldwide) writer-historians David Long and Joshua Meadow, brought to life by the voices of Enn Reitel (Monty Python to Steven Spielberg) and Juliet Cowan (a rising star in British television). Adam Frisby, CEO Sine Wave Entertainment was Lead Graphics Programmer.
City Quests Founder, Natasha Seery explains "we wanted to give a citizens perspective of life in Tudor London instead of the royal one.. then the artistic license crept in, so we re-imagined the cityscape leaving the historical integrity with the people you'll find there".
The game has a compelling cast of characters - compare and contrast the Inn's bawdy Mistress Q with the Executioners lament (no-one complained about her prices when she served gentlemen back in Southwark, whilst he can't get a beer for love nor money). Fly the skies with the Keeper of Bedlam and tune into the Afterlife with the late Queens Anne and Catherine killing time at The Tower. The bear-baiting Brewers from Bruge arrived poor but business is booming now 'whats not to like about that?' Self-loathing jailers and gormless guards run amok. City Run offers a combat-free beautifully surreal and deeply immersive adventure in 16th century London.
Is City Run educational? Veteran game designer, former IGDA Chair and Serious Games expert, Noah Falstein says "much of my initial exposure to world geography, history, and especially European locales started with my teenage interest in games, movies, books, and other entertainment sources. I'm pleased to see City Quests blending intelligent, accurate historical information with interactive entertainment in applying 21st century learning techniques to 16th century London".
Features:

47+ locations to explore
Soundtrack fusing voice, choir + instrumental music
Fully animated and voiced story-telling
30+ hand-drawn and animated cut-scenes (optional)