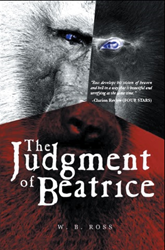 When you lose a child, you question everything.
Tulsa, Okla. (PRWEB) March 23, 2016
People cope with death in many different ways. Some turn to faith, while some turn away. When cardiologist W.B. Ross lost his daughter, Gayle, to acute lymphoblastic leukemia, he turned to writing and decided to dream up an entirely new idea of heaven and hell.
In Ross' book "The Judgment of Beatrice," he tells the story of Beatrice, a woman who led a highly unusual life, but who has an even more fantastic afterlife. In this fantasy novel, derived from Ross' own dreams, he describes Beatrice's post-mortem adventures and her role in the battle between good and evil.
"This is a challenge to the widely popular ideas of heaven and hell," Ross said. "When you lose a child, you question everything. You explore every aspect of your faith and wonder what really happens to our souls after we die."
A story-teller by nature, Ross had never written any of his tales down before his daughter died. He is a practicing cardiologist and works in the very hospital where he lost his only daughter fifteen years ago. He treats patients in the same room that saw the end of Gayle's battle with leukemia.
While the central character in "The Judgment of Beatrice" battles demons of her own, her story is one that was created from the hope of more beyond this world.
"This story is a completely new version of what takes place in the afterlife," Ross said. "In a way, I gave Beatrice a life after death, unlike any other, to give myself hope for more for my daughter."
For more information, visit: http://bookstore.xlibris.com
"The Judgment of Beatrice"
By W.B. Ross
ISBN: 978-1-5035-9346-6
Available in softcover, hardcover, e-book
Available on Amazon, Barnes & Noble and Xlibris
About the author
W. B. Ross has two living children and had a daughter who died of leukemia at the age of eighteen. He has been happily married for over forty years.
# # #
**FOR IMMEDIATE RELEASE**
For review copies or interview requests, contact:
Lindsey Gobel
317.435.2116
lgobel(at)bohlsengroup(dot)com