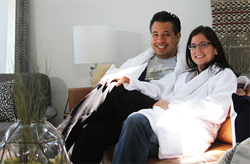 "We use HomeAway to plan our vacations and we're happy to say they just helped us have our best staycation ever! This amazing experience has been a milestone in our continued love affair with this city."
AUSTIN, TX (PRWEB) March 21, 2016
HomeAway's #birdhousesleepover was enjoyed over the weekend by a local Austin couple who helped raise money for Austin's Habitat for Humanity thanks to their highest bid.
Dr. Richard Garza of Austin, Texas submitted the winning bid of $2,000 to stay in HomeAway's iconic Birdhouse that was expertly decorated by West Elm. HomeAway matched Garza's donation, raising a total of $4,000 for Austin Habitat for Humanity.
"My wife and I have lived in Austin for four years - every time we plan a trip away there is another festival or event that convinces us to stay," said Garza. "We use HomeAway to plan our vacations and we're happy to say they just helped us have our best staycation ever! This amazing experience has been a milestone in our continued love affair with this city."
Garza bid on the Birdhouse as a surprise for his wife, Dr. Cheyanne Casas, also of Austin. When asked what their favorite part of the weekend was, the couple described the fun of throwing a spontaneous dinner party with friends, listening to records on the Back Perch and enjoying the view from HomeAway's rooftop deck.
"The Birdhouse Sleepover was a great way to shine a spotlight on the work that Austin Habitat does to provide homeownership to families in need," said Phyllis Snodgrass, CEO of Austin Habitat for Humanity. "We're so thankful for this generous donation from Dr. Garza and the continued support from HomeAway."
As part of their ultimate Austin weekend experience, Richard and Cheyanne received:

The Birdhouse, a larger-than-life representation of HomeAway's corporate logo, was built in 2009 as part of HomeAway's global headquarters in downtown Austin. The birdhouse logo was originally chosen to represent a "home away from home," based on the idea that travelers should always have access to the space, privacy, and comfort of a whole home, even when traveling. This auction marks the first time the Birdhouse has ever been available as a lodging space in its seven-year history.
About HomeAway
HomeAway, based in Austin, Texas, is the world leader in vacation rentals with sites representing over one million paid listings of vacation rental homes in 190 countries, and is a part of the Expedia, Inc. family of brands. Through HomeAway, owners and property managers offer an extensive selection of vacation homes that provide travelers with memorable experiences and benefits, including more room to relax and added privacy, for less than the cost of traditional hotel accommodations. The company also makes it easy for vacation rental owners and property managers to advertise their properties and manage bookings online. The HomeAway portfolio includes the leading vacation rental websites HomeAway.com, VRBO.com and VacationRentals.com in the United States; HomeAway.co.uk and OwnersDirect.co.uk in the United Kingdom; FeWo-direkt.de in Germany; Abritel.fr and Homelidays.com in France; HomeAway.es and Toprural.es in Spain; AlugueTemporada.com.br in Brazil; HomeAway.com.au and Stayz.com.au in Australia; Bookabach.co.nz in New Zealand, and Asia Pacific short-term rental site, travelmob.com.
HomeAway also operates BedandBreakfast.com, the most comprehensive global site for finding bed-and-breakfast properties, providing travelers with another source for unique lodging alternatives to chain hotels. For more information about HomeAway, please visit http://www.HomeAway.com.