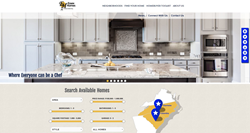 Atlanta, GA (PRWEB) March 22, 2016
mRELEVANCE, LLC has launched a new and improved website with increased functionality through a more user friendly interface for client Essex Homes. With fully responsive features and cutting-edge designs, this up-to-date website provides prospective home buyers easy access to information from various devices, including desktops, tablets and phones.
"Our new website will help prospective buyers find their dream home with ease," said Susan Longshore, marketing director with Essex Homes. "The site has a beautiful modern design, and presents all of the information in an easy-to-find, organized manner. We couldn't be happier with the finished product."
In addition to providing a better user experience, Essex Homes saw an increase of 86 percent for incoming leads in the first two weeks of the site being launched, with a total of 56 leads since Feb. 2, 2016.
New features include:

Server Side Compression: This new feature on the Essex Home website increases the site's loading speed, allowing information to be displayed in a more efficient manner. With the inclusion of numerous graphics and interactive tools on the website, it's easy for loading speeds to increase beyond the goal of no more than five to six seconds. The redesigned website takes consistently less time to load than previous versions, providing better overall user experience.
Enhanced Google Maps Functionality: The Essex Homes website has always included an integrated Google Maps feature, but the new website now provides users with updated information about local amenities and destinations around communities.
Data Management System: This added feature allows the Essex team to quickly update, input and manage data on the website.
Improved Search Bar Capabilities: The search for dream homes on the Essex Homes website has reached a new level. Website visitors access an intuitive system through the search bar to maneuver the selection of available homes and floor plans for each community.
To view the new Essex Homes website, visit http://www.EssexHomes.net. For more information on Marketing RELEVANCE's services, including web development, visit http://www.mRELEVANCE.com.
About Marketing RELEVANCE: mRELEVANCE, LLC creates relevant marketing and communications that reach audiences with focused and strategic messages. Through technology and creative content, messages are delivered to target markets to encourage customer action and interaction.
With offices in Atlanta and Chicago, mRELEVANCE can connect your company with buyers and build relevant relationships nationwide. For more information, visit http://www.MarketingRELEVANCE.com, Like us on Facebook at http://www.Facebook.com/mRELEVANCE, Follow us on Twitter at @mRELEVANCE or call 770-383-3360 or 847-259-7312.