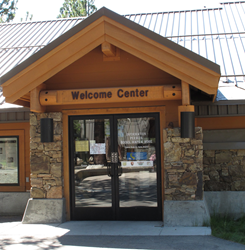 Mammoth Lakes, CA (PRWEB) March 22, 2016
More of a good thing is, well, a good thing. The last several years have seen the quality and diversity of food and drink options in Mammoth Lakes grow by leaps and bounds. That trend continues in summer '16 with a new wine bar, brewery and a number of new restaurants set to greet visitors.
This summer will also see new ways to experience and understand the Eastern Sierra Mountains that surround Mammoth Lakes with the Welcome Center and Eastern Sierra Interpretive Association adding additional programming to provide visitors with a more immersive educational experience focusing on the region's unique natural and cultural history.
It's all part of the continued evolution of one of North America's most cherished outdoor playgrounds, and every part of it is worth experiencing, including new:
FOOD AND DRINK
Black Velvet Wine Bar: When coffee industry veterans Matt and Gracie Hammer opened Black Velvet Coffee Shop five years ago, they took it one cup at time. Every order served in a 12 ounce cup, brewed pour-over, and with attention paid to the smallest details. They've taken the same approach with their latest venture, a wine bar in Black Velvet's tastefully appointed space on Main Street. With a focus on boutique wines and a selection that changes weekly, the wine bar is a great apres option and a frequent venue for unique tastings.
Black Doubt Brewing: Home brewers Drew and Kerissa Wallace followed their passion when opening Black Doubt Brewing in December. All Black Doubt beers are brewed by hand, 100 gallons at a time, in the same tasting room where the beers are poured. It's a excellent addition to what's quickly becoming a burgeoning microbrewing scene in Mammoth Lakes.
Delicious Kitchen: The name is as straightforward as the food. There's nothing fancy about owners/ chefs Eracleo (Rocky) Rodriguez and Eugino Ramos's new eatery on Old Mammoth Road and that's part of the charm. Just hearty portions of honest, fresh American and Mexican classics. Nothing frozen, nothing canned, everything delicious.
Food Cache Cafe: If you get out what you put in, than Food Cache Cafe is your spot for fueling up for (or recovering from) a day a fun in the outdoors. The menu features locally-sourced vegan, vegetarian, and healthy eats and drinks for breakfast and lunch, perfect for grabbing on the go or enjoying in the dining room. Owners Erick Codoner and Karl Dawson are long-time locals who have nearly a quarter century of combined restaurant and cooking experience.
New chef at Jimmy's Taverna: Since opening in 2013, Jimmy's has delivered on its unique promise, serving up authentic Greek dishes in a charming setting that compliments the rotating seasonal menu of classically prepared Greek fair. New Chef Jeremy Graham has kept a good thing going while folding some of his own ideas into a kitchen that puts out some of Mammoth Lakes' best food. Graham is a graduate of the Scottsdale Culinary Institute, and brings to Jimmy's a cooking style that includes classical French techniques combined with an eclectic fusion of European and Asian cuisine to showcase the natural flavors and vibrant colors of food. Chef Jeremy believes in an all-natural approach, with simplicity being the key to bringing out the true beauty of food.
ACTIVITIES/ INFRASTRUCTURE
The Mammoth Lakes Welcome Center, a designated California Welcome Center, and the Eastern Sierra Interpretive Association: From full moon night hikes, to skins and skulls interpretive displays, plus tons of information about the Eastern Sierra, the Mammoth Lakes Welcome Center, with help from the Eastern Sierra Interpretive Association, is the hub for activity this summer. Spend a Saturday at the Welcome Center's plaza and enjoy live music and activities, or stop into the auditorium for a free nature video. Plus don't miss campfire programs at 7 pm at the amphitheater every Friday night beginning in July. For specific program times and a full schedule, stop into the Mammoth Lakes Welcome Center at 2510 Main Street, or visit their Facebook page.
Tesla Electric Charging Stations: Mammoth Lakes is now home to a Tesla Supercharging Station with 8 superchargers capable of a full charge in minutes, not hours. Located at the park and ride lot in downtown Mammoth Lakes, the station, which was built and will be maintained by Tesla, comes in response to consumer demand from electric vehicle owners for a station in Mammoth Lakes. It also places Mammoth Lakes in a unique chain of planned stations between Reno and Las Vegas and complements several EV-charging stations already available in Mammoth Lakes at hotels for the use of guests. The Westin Monache, 80/50, the Village's Grand Sierra Lodge and Juniper Springs Lodge all sport both Tesla and standard chargers. And with Tesla Supercharging Stations also already in place along U.S. 395 in Lone Pine, Calif and InyoKern, Calif., Mammoth Lakes is now easily accessible to Southern California electric vehicle drivers.
Check http://www.visitmammoth.com/ for more information and to get started booking a Mammoth Lakes vacation.