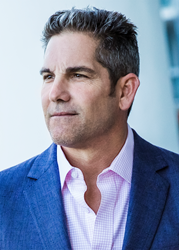 The things upon which people depend on most are omnipresent - GC
Miami Beach, FL (PRWEB) March 22, 2016
New York Times bestselling author Grant Cardone burst into the Top 10 of the 500 Most Influential CEOs in the World and has held it for 10 consecutive weeks. The list, compiled by a complex algorithm from Richtopia, ranks the world's most influential CEOs on Klout, Twitter, Facebook, YouTube, LinkedIn and Instagram.
As the top sales trainer in the world, Grant Cardone now joins Warren Buffett, Rupert Murdoch, Richard Branson, Elon Musk, Al Roker, and Tim Cook among others who sit in the top 10. In addition to being a business strategist, Cardone is a marketing and branding expert who is the founder of five multi-million dollar companies which collectively make over one hundred million dollars in sales per year.
Some of the 500 Most Influential CEO's in the world come from humble beginnings. Grant Cardone was broke at 25 and is living proof that those who are hungry enough to succeed can find greater prosperity in an age where many are struggling just to survive in the middle class—living paycheck to paycheck.
About Grant Cardone:
Grant Cardone is a business strategist, marketing and branding expert, the leading international sales expert in the world and best-selling author of five books. Cardone owns multiple companies; Cardone Training Technologies , Inc., Cardone Group (a software and technology business), Grant Cardone TV (online media network--GrantCardoneTV.com), and Cardone Acquisitions, a national real estate company which currently owns over 3,500 units throughout the United States.
Cardone is the world's top sales training expert with the most viewed online sales training site in the world today with over 1500 segments of content used by companies like Ashley, Aflac, All State, Google, MIT, Inside Sales, Udemy, Chrysler, Toyota, Morgan Stanley, T-Mobile, AT&T, Sprint, Fran Tarkenton Companies and thousands more. You can follow Cardone on Twitter @GrantCardone or visit http://www.GrantCardone.com
----
For further press information on Grant Cardone please contact Vaughn Reynolds:
Vaughn Reynolds – Public Relations
Vaughn(at)GrantCardone(dot)com
Cardone Training Technologies, Inc
Phone: 310.777.0255
Fax: 310.777.0256
Web: http://www.grantcardone.com