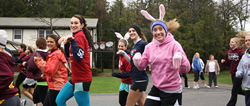 Hanover, MA (PRWEB) March 22, 2016
As they have on each Easter weekend for the last five years, more than 500 people will crowd Benzinger Park in St. Marys, PA, to help raise money (by walking or running) to fund research to cure brain aneurysms, a disease that affects an estimated 30,000 people in the United States every year.
All proceeds from this annual 5K Bunny Hop and Kids Fun Run will be raised on behalf of the Brain Aneurysm Foundation (BAF), an international non-profit organization renowned for their work in raising awareness about brain aneurysms as well as for their support of Arterial Vascular Medical research.
"The work of the Brain Aneurysm Foundation is to get resources to doctors and researchers who are working to prevent this disease," said Christine Buckley, BAF Executive Director, "The impact of our work greatly depends on the success of fundraising events like the one onthis special day in St. Marys' Benzinger Park. Our goal as an organization is to raise awareness and end the fear of this devastating disease."
Organizers of the event, which will be held this year at 10 a.m. on Saturday, March 26, say they continue to hold the Bunny Hop as a way to raise money and awareness about the signs and symptoms of brain aneurysms.
Registration is now open for the event or you can register on-site after 10 a.m. on March 26. The 3.2-mile walkers' event begins at 11 a.m.; the Kids Fun Run starts at 12:15 p.m.; and the 5K Runners event starts at 12:30 p.m. The registration fee is $30 for adults and $10 for children. All participants are given an event T-shirt.
For more information or for those who cannot participate go to: http://give.bafound.org/site/TR/Events/General?fr_id=1480&pg=entry
The Bunny Hop will take place at Benzinger Park, on the Vine Road side of the park.
ABOUT THE BRAIN ANEURYSM FOUNDATION
The Brain Aneurysm Foundation is the globally recognized leader in brain aneurysm awareness, education, support, advocacy and research funding. Now celebrating 20 years' of service, the Brain Aneurysm Foundation was established in 1994 in Boston, Massachusetts with a mission to promote early detection of brain aneurysms by providing knowledge and raising awareness of the signs, symptoms and risk factors; work with the medical communities to provide support networks for patients and families; as well as to further research that will improve patient outcomes and save lives. For more information about the Brain Aneurysm Foundation, visit http://www.bafound.org.