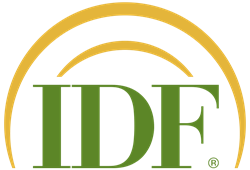 People really can't wait to see this high-quality, complete protein, CHiKPRO™, made available in their favorite supplement brands.
Springfield, Mo. (PRWEB) March 24, 2016
Chicken-protein and industry leader International Dehydrated Foods, Inc. (IDF) launched its latest breakthrough, CHiKPRO™ Chicken Protein Isolate Powder, at the Arnold Fitness Expo on March 3-6, 2016 in Columbus, Ohio.
The Arnold Fitness Expo is held in conjunction with the annual Arnold Sports Festival (ASF), the largest multi-sport event in the world, drawing more than 175,000 attendees. This marks the first time IDF has exhibited at the ASF.
IDF developed its innovative chicken protein isolate powder—the first on the market—to provide supplement makers with an authentic all-natural source of high-quality chicken protein and address the long-overdue need for a convenient form of chicken for athletes. CHiKPRO™ meets the demands of Paleo dieters, CrossFit enthusiasts and other 21st-Century athletes looking for a clean, complete protein powder that can be used as a standalone protein source or as an ingredient to fortify foods. Created in collaboration with former IFBB professional bodybuilder, protein supplement expert and world-class trainer David Hawk, CHiKPRO™ is shelf-stable, ready-to-eat, free of common allergens and made from real chicken. In addition, CHiKPRO™ is gently and minimally processed (non-hydrolyzed) to retain the natural high-quality protein that athletes and competitors demand.
IDF showcased CHiKPRO™ chicken protein isolate powder in a protein-rich trail mix supplement and a savory chicken gravy mix, both being commercialized by Barndad Nutrition™. BarnDad's own Kurt Angle, Olympic Gold Medalist and former WWE and TNA professional wrestler, said BarnDad will be the first health, nutrition and sports purveyor to launch CHiKPRO™ in a novel powdered commercial chicken protein gravy, ideal for anyone looking to dress up a healthy new high-protein recipe.
Visit http://www.barndadnutrition.com for updates on these innovative and delicious protein products designed to revolutionize the way athletes, dieters and health-conscious people enjoy their protein.
David Hawk, who has trained NFL, NASCAR and other pro athletes commented, "We had a chance to talk to so many bodybuilders, weightlifters and other performance athletes about the CHiKPRO™ product and savory new protein supplements. It was great to witness them trying our new applications, and realizing how chicken protein isolate completely changes the fitness-nutrition protein platform. Everyone was amazed and truly excited about all the possibilities!"
According to Stephanie Lynch, IDF's Vice President of Sales, Marketing, and Technology: "The concentrated protein CHiKPRO™ has all the essential and branched-chain amino acids needed for muscle recovery and strength and delivers this in an easy-to-use powder, reducing the need for athletes and dieters to cook their chicken. It makes it possible for protein-supplement providers to develop all-new applications systems that lend themselves to savory, crunchy products while ensuring quality protein. That's hugely important to fitness enthusiasts like the thousands who came to our booth at the Arnold. I can't tell you how many times we heard, 'I spend so much time cooking chicken! Where can I get this stuff?' People really can't wait to see this high-quality, complete protein made available in their favorite supplement brands."
The Arnold Fitness Expo is the nation's largest health and fitness exposition, annually hosting leading businesses and organizations showcasing the latest trends in the industry. The 2016 exposition was held March 3-6 in the Greater Columbus Convention Center in Columbus, Ohio.
BarnDad Nutrition is the brand leader of innovative products for weight management, digestive/immune health and diabetes support. BarnDad's vision is to educate consumers of all ages on the overall health and wellness benefits of using natural and active ingredients, such as high fiber, protein and probiotics, in their daily foods and/or supplements to gain and maintain optimum health and peak performance.
IDF is a family-owned company providing sustainable, natural, poultry-based ingredients for protein, functionality and flavor. The company supports the development of trending applications such as meal-replacement drinks, sports nutrition and novel applications in soups and bars. For more information, visit idf.com.