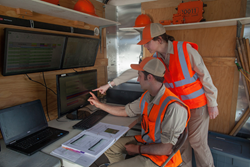 Given the current crisis in the industry, we must leverage innovative technologies to find new ways to optimize production.
Houston, TX (PRWEB) March 23, 2016
GroundMetrics Inc., a world-leading electromagnetic survey company and oil and gas technology pioneer recently provided electromagnetic sensor services in a successful test performed by CARBO Ceramics and ConocoPhillips in a West Texas oil well. The test was performed to determine where proppant propagated through the subsurface during a hydraulic frac.
The standard technology for imaging unconventional fields is microseismic monitoring. But microseismic technology only maps where rocks are breaking and producing characteristic "popping" noises. Microseismic images do not show where proppant is going or where it is propping open fracture systems. The dramatic fall in oil prices since mid-2014 has sent operators scrambling for techniques to improve efficiency, especially because unconventional development is relatively expensive and 80% of production comes from 20% of fractures.
CARBO Ceramics contracted GroundMetrics to participate in their recent project with ConocoPhillips to show CARBO's technology can prove where the proppant was placed in the frac. GroundMetrics used its proprietary electromagnetic source and sensor system to stimulate and detect 230,000 lbs. of CARBO's electrically conductive proppant after it was pumped into an 8,000 ft. deep well. The resulting data was processed by CARBO and collated into an earth model that imaged exactly where the proppant had gone underground. CARBO has more tests planned for later this year.
"There are several E&P companies that are very interested in that because finally we will be able to tell, 'Are we effectively stimulating these rocks and should we have our well spacing at X, Y, or Z, or in between?'" said Gary Kolstad, president and CEO of CARBO to JPT Magazine. "Now you can take a look and say, 'Am I really spending my capital how I should?'"
Operators are interested because of the vast potential for savings. In the current price environment, technologies that allow oil to be produced more cheaply could make the difference between profitability and bankruptcy for E&Ps with significant unconventional assets.
"We're very excited about the results from this survey," said George Eiskamp, CEO at GroundMetrics. "Given the current crisis in the industry, we must leverage innovative technologies to find new ways to optimize production. Electromagnetic imaging of conductive proppant is a perfect example. It gives operators actionable insights that can dramatically shift the economics of a given field."
GroundMetrics Inc. is a full-services survey and monitoring company and the world leader in surface-based resistivity sensing onshore. Its customers include oil and gas companies as well as government energy agencies. GroundMetrics uses its unique technology to eliminate blind spots underground, which increases production, improves efficiency and reduces wasted spending and capital expenditures.
CONTACT: Jessie Kaffai; jkaffai(at)groundmetrics(dot)com; 858-381-4155.